i have a question, i do mma and weight training, i just need advice outside the people i know. Im 170, all muscle on top i had chicken legs 4 months ago, and been doin legs after with my training. recently i got the on the scale i saw i was 180. i was amazed how much weight i had. i never passed 175 but always was below that. So wen i saw i was 180 i took all my clothin off and i saw i was 178. i was shcoked and happy i am t find out im gaining weight due to my metabilism. So my question, Since i do mma and weight training and i dont wana loose weight can you give me exact workout for people who wana get bigger with mma ? i do weight training some days 2 x a week some days, i do mma and few hours later i hit the gym. but i feel thats not gona help. so if u dont mind takin few mins of your time whats most efficient way to do it. btw i wana fite pro so i wana hit 185 and cut down to 170 if i can. thank you very much... oh yeah im takin nasm test ina 3-4 months aswell.
I am currently a college student and am working on a project where I have to plan an entire year of training for an MMA fighter. It needs to include when the fighter should peak, what types of workouts and why, should they do aerobic or anaerobic workouts, overload, progression, etc. If you could point me in the right direction to research this project I would really appreciate it. Thank you so much!
What is it? The term kickboxing has become kind of a blanket term to cover anything that involves punching and kicking, but Muay Thai has a few distinct features. It's a centuries-old practice that comes, predictably, from Thailand. In addition to fists and feet, it also involves knee and elbow strikes as well as a form of stand-up grappling called clinch.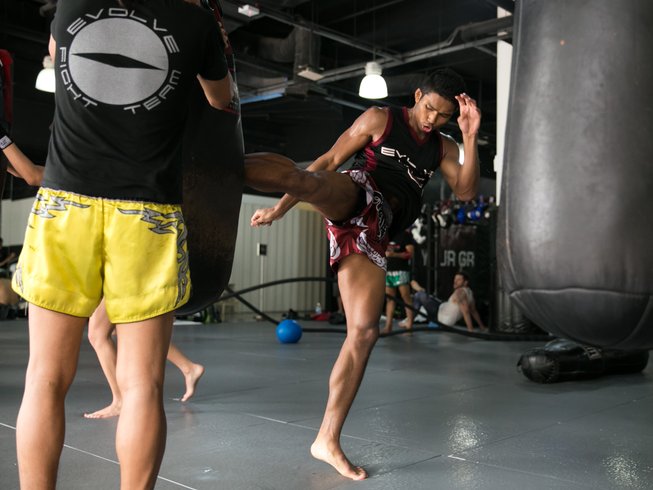 One of the most important training methods for self defense involves conditioning effective default responses to surprise attacks. Take a look at our self defense techniques section to see several examples of default responses and combinations. Your default response techniques need to work against a wide range of attacks, such that a counter ingrained subconsciously will work when you're not sure which particular attack is coming. This training is primarily done at the isolation stage, but the default responses can and should also be integrated into sparring.
The ANAEROBIC system (aka the glycolytic system), is a faster acting system that can produce ATP even in the absence of oxygen. The downside to this faster ATP-production rate is that it can only breakdown carbohydrates as fuel and it creates a significant amount of lactate (commonly known as lactic acid). Lactate is correlated with exercise and performance fatigue, but the concept is often misinterpreted in the MMA and strength & conditioning world (more on this later). Exercise bouts of moderate to high intensities, lasting upwards to 2-3 minutes are mainly fueled by the anaerobic energy system.
MMA competition is legal and under the purview of the Professional Mixed Martial Arts Council or PROMMA Africa,[citation needed] which was formed in 2010 with the main purpose to regulate MMA at larger MMA promotions such as EFC Worldwide (Formerly known as EFC Africa). PROMMA Africa began overseeing Rise of the Warrior MMA events in 2010. In 2012 the PROMMA Africa Council was accepted into the Mixed Martial Arts Association of South Africa (MASA) thus granting MMA "national sport" status.[citation needed] In addition to EFC Africa, there are other leagues such as Dragon Legends MMA.[264]
You've probably seen the inspirational video of a guy named Arthur who wasn't supposed to ever be able to walk again, but after finding DDP Yoga he's able to run around and do handstands. Granted, Diamond Dallas Page was a pro wrestler and not an mma fighter like some of the faces of other programs we're featuring, but a lot of pro fighters practice Yoga. When it comes down to it, a little bit of extra mental toughness and flexibility can go a long way. If getting into shape and losing weight are your primary goals, DDP yoga is worth checking out.
"I am a huge fan of BJJ and MMA so this chance for me to learn what I have seen is very very cool. It is an honor to be taught by you after learning so much about your martial arts history and your practice under Rickson. The Warrior's Cove is, in my opinion, the only place to go for martial arts training. Everything is very practical due to it being based on real life scenarios. I have learned so much in just the 4 weeks I have been there. I have a very demanding job (Senior Loan Officer) and I am almost always able to work around my schedule because of the class availability. I think whether you are a beginner looking for self defense skills or you want to expand on past martial art experiences, the Warrior's Cove has what you are looking for. Thank you Dave for everything! I look forward to my future with the Cove and getting a Black Belt from you or Rickson himself!"
Pursuing a degree in history allows you to do just that. History is not just an isolated study of the past. We study the past in order to better understand the present, to see where we have been, how we got here, and to anticipate where we might be going. History is not the plain study of raw facts, but the interpretation of events, of causes and effects, of attitudes and actions, in order to make sense of shifts in civilization over time. 

Adrian, Thanks for reaching out. After watching and dealing with full time fighters for many years, I personally think that you are smart for having a full time job. Most of the full time guys struggle with finances and consistency, so youre ahead of the curve. Do you train every evening? What is your current goal? Are you training for a fight or a tournament?
Ruth McRoy – McRoy holds the title of Endowed Professorship at the Boston College School of Social work, and is a co-founding Director of Research and Innovations in Social, Economic, and Environmental Equity (RISE) at Boston College. She is widely published and has been an educator of social work for over three decades. Her work focuses on race and family services, such as disproportionality in welfare, and adoption.
Let's take a sledgehammer as an example. Who remembers David Faulkner from The Ultimate Fighter U.S. versus U.K., when he missed the tire and instead hit the concrete and his leg with a sledgehammer? Does it mean that sledgehammer exercises are bad? Not at all, it just means he shouldn't have been doing it, as he had no idea how to use the sledgehammer. Sometimes the exercises that look cool are not the best choices. I am not saying they are not effective, but the problem is that if you can develop the same qualities using much safer options, so why not do that? If as a coach you do decide that smashing a tire with a sledgehammer will give your fighter an edge, make sure he/she knows how to use the tools before they attempt to do so. Your job is to make sure the sessions are effective and safe and they contribute to your athlete becoming a better fighter, which brings us to point number 2. 
They say that boxing is dead and MMA is holding the smoking gun pointed towards it. While the "sweet science of pugilism" has certainly seen better days and it's cage fighting brother sport has made major strides in the last decade, boxing is far from gone and certainly not forgotten. And it has had a boost in popularity due to a new organization, BKB, in which the fighters have to be in top shape due to the size – or lack thereof – of the fighting arena.

"I am a huge fan of BJJ and MMA so this chance for me to learn what I have seen is very very cool. It is an honor to be taught by you after learning so much about your martial arts history and your practice under Rickson. The Warrior's Cove is, in my opinion, the only place to go for martial arts training. Everything is very practical due to it being based on real life scenarios. I have learned so much in just the 4 weeks I have been there. I have a very demanding job (Senior Loan Officer) and I am almost always able to work around my schedule because of the class availability. I think whether you are a beginner looking for self defense skills or you want to expand on past martial art experiences, the Warrior's Cove has what you are looking for. Thank you Dave for everything! I look forward to my future with the Cove and getting a Black Belt from you or Rickson himself!"
Marissa and Maia open a envelope to Diane, only to find a letter saying "Kill all lawyers", and a deadly chemical, ricin, fall out. Diane fears that she is the next target, causing her to microdose even more. Alone at home, she watches TV, only to find that every single channel is about Trump. She hears a story about the president adopting a pot-bellied pig named Petey. The firm represents a young woman who was assaulted while a contestant on a reality dating show. In court, Diane starts hysterically laughing. Adrian asks her how she is coping, after Liz told him that Diane is thinking of quitting the law, due to her inability to process the events that are constantly happening.
The first thing you should always do is start your MMA workout with some shadow boxing. This is done best in front of a mirror so that you can see your style of striking and the improvements you need to make while striking. If you're new to shadow boxing, a good rule of thumb is to always finish your punching combinations with knees or kicks. If you're a boxer then don't worry about knees or kicks, just work on your punching combinations and your flow. Visualize the opponent in front of you and moved to create angles that could be used in a real life situation. Don't be stagnant with your movement, allow yourself to be comfortable so that you can become more confident with your flow.
Another Chicago lawyer is murdered, causing tensions at Reddick Boseman. Liz has her first day at Reddick, Boseman & Lockhart and goes for a drink with Diane, where Diane confides that she feels as if she is going insane with all the problems of the world. Maia's trial takes an unwelcome turn when a surprise witness is called to testify against her. Lucca and Colin go head-to-head in court in the Rindell trial.
When many MMA fighters train, they keep the length of a standard five minute round in mind by doing circuit training.  MMA fighters need to get used to pushing themselves for five minute periods of time just like rounds in fights.  So, they organize their workouts into five minute periods with short rests in between.  For, example, a fighter might jump rope for five minutes, take 30 seconds to rest, shadow box for five minutes, take 30 seconds of rest, and then run on a treadmill for five more minutes.  This example would help a fighter simulate a three-round fight.
Marsden also adds that this type of bodyweight circuit is inherently flexible, so feel free to mix up the exercises as you wish. He just has one word of caution: "Feel free to change up the movements, but be cognizant of varying the exercises to maximize heart rate changes," he says. "By this I mean don't do three high-intensity movements before ending with two rounds of lower-intensity planks and flutter kicks." Rather, switch back and forth between higher- and lower-intensity exercises when planning your bodyweight circuit.
"The atmosphere is the biggest thing that drew me to this place when I first came and visited. The people were respectful and were there to learn. The classes are taught in a way that I find most effective for me to learn by presenting a problem and providing a potential solution to that problem. Also emphasis on position really helps to build a patient mindset that is needed while grappling to help avoid injury to your partner or oneself. All the instruction I have received here at the Cove has been top notch. As far as training partners go all those who train regularly during the day classes (Monday and Wednesday) are great. They all encourage me and help me learn the finer points of the technique that is taught that day. If your goals are self-defense, fitness, competition or just for fun Warrior's Cove will give you a place to meet those goals. The Cove gives you a great place to learn in a safe environment that encourages learning and hard training that will get you to the goals that you set for yourself. I would recommend Warrior's Cove to anyone looking for Martial Arts training."
Muhammad Ali vs. Antonio Inoki took place in Japan in 1976. The classic match-up between professional boxer and professional wrestler turned sour as each fighter refused to engage in the other's style, and after a 15-round stalemate it was declared a draw. Muhammad Ali sustained a substantial amount of damage to his legs, as Antonio Inoki slide-kicked him continuously for the duration of the bout, causing him to be hospitalized for the next three days.[31] The fight played an important role in the history of mixed martial arts.[32] In Japan, the match inspired Inoki's students Masakatsu Funaki and Minoru Suzuki to found Pancrase in 1993, which in turn inspired the foundation of Pride Fighting Championships in 1997. Pride was acquired by its rival Ultimate Fighting Championship in 2007.[33][34]
Jeremy Pacatiw has represented the Philippines inside the Brave cage in Brazil, India, Morocco, and Pakistan, and is excited to be coming home, as the world's only truly global mixed martial arts organization lands in Manila: "I learned a lot in this sport. The discipline, attitude, mental toughness, humility. All of those things changed my life. It changed the way I view life and my way of life as well. Now I'm able to support myself, help my parents, buy my own things. I want to inspire others through sport. I want to show the youth that all things are possible. I feel like I need to be a good example for the next generation and I think that starts with respect. ... I always took my losses as a success, because I've learned a lot from them. They give me motivation, they're a stepping stone to my eventual success."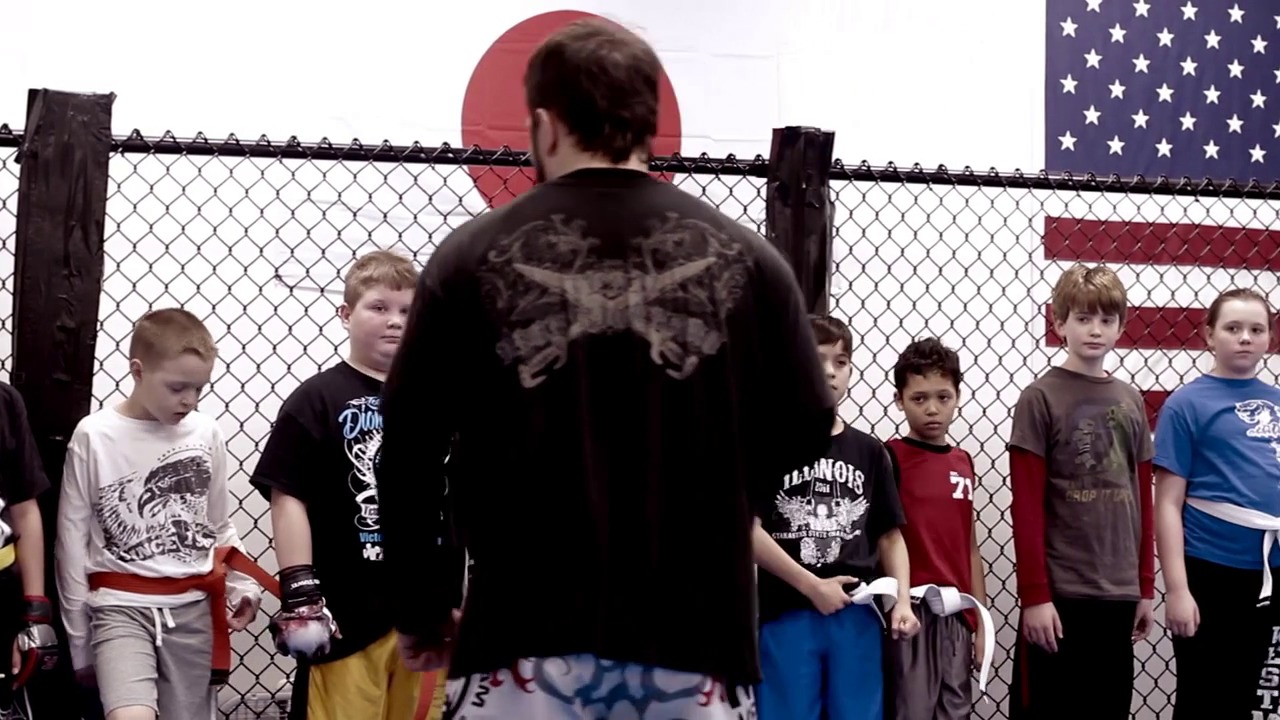 It's not a traditional bodybuilding workout, but MMA fighting works all of the muscle groups in the body. For instance, hitting the heavy bag is equivalent to lifting weights. When your back is against the cage and you're working to get your opponent off you, that's equivalent to doing weighted squats and bench presses. You do training camps to prepare for fights, and that means sticking to your diet religiously and working out hard. It's not an easy lifestyle, but it keeps you fit.
In May 2016, CBS was in final negotiations with Christine Baranski to reprise her role as Diane Lockhart and Cush Jumbo to reprise her role as well.[4] After the series was picked up, it was announced that Jumbo would reprise her role as Lucca Quinn.[7] Deadline announced on September 17, 2016 that Sarah Steele had been added to the cast, returning as Marissa Gold and appearing as Diane Lockhart's secretary-turned-investigator.[9] On October 12, 2016, it was announced that former Game of Thrones star Rose Leslie had been cast to play a lead in the show, the role of Diane's goddaughter Maia who joins Diane's firm just after passing the bar.[5]
Even though Systems Training Center has some very talented instructors, our focus is on our member experience and customer service. Whether people train in fitness, self-defense or fighting, we pride ourselves on offering martial arts and fitness classes that continue to inspire, motivate and empower our students. This mindset shows as we have many members who have been with us since we first opened. Often, they don't just train themselves, but their kids, parents, and siblings train at the gym too!
Jose Octavio Rivas, Jr. – Rivas is a high school teacher in the Lennox School District of California, teaching STEM classes to a primarily minority student population with a high poverty rate. In his efforts, Rivas has secured over $150,000 in funding, and is focused on helping his students succeed by preparing to become engineers. Rivas was a runner-up for our 2016 Escalante-Gradillas Prize for Best in Education.
I appreciate it when you pointed out that since mixed martial arts involves proper sleeping, eating, and resting in order to be successful, doing this will teach a person about discipline. If so, then I need to give this a try since I am slightly less disciplined than my brother. Since I am also pretty much weak in terms of body, doing this will benefit me a lot.
Much has been said about McGregor's prowess in the cage, but the UFC featherweight champion claims his competitive edge isn't just the product of freak talent or gruelling hours spent walloping a heavy bag. Rather, McGregor attributes much of his recent form to movement training – a regimen that champions free-flowing bodily rhythm and a merging of the mental and physical aspects of fighting.
Studying and writing fiction, non-fiction, and poetry gives us insight into issues and situations that we may not otherwise be able to understand. Literature gives us a deep, direct connection to the human soul, and can move us in ways that other mediums cannot. Studying rhetoric lets us understand the deeper implications of the language that is being used all around us, dictating how we represent ourselves, each other, and the issues that matter most to us.
In July 2013 the Malaysia Mixed Martial Arts Association (MASMMAA) was formally announced as the official national governing body for MMA in Malaysia, ahead of its formation in December 2013. MASMMAA is registered under the Malaysian Sports Development Act 1997 and recognized by the Commissioner of Sports, under the auspices of the office of the Youth & Sports Ministry. The federation comprises representatives of ten states out of fourteen in Malaysia. MASMMAA became affiliated to the International Mixed Martial Arts Federation in April 2014.[238][239][240]
Another example of what not to do is to judge the skill of a knife fighter by the way he holds his weapon. The bottom line is, you should always assume that your adversary is an expert in all forms of street fighting combat. You must always respond to what the assailant is doing in the fight and not what he seems capable of doing. Deal with the here and now and not the what ifs!
What's best is all of these exercises are basic. The volume of reps attached to them, however… well, good luck with them, because you might have to tap out before you can finish. With that in mind, be sure to adjust the workouts to your own fitness level. Push yourself, but don't overextend and put yourself in danger. Work up to the full number of reps over time.
Small, open-fingered gloves were introduced to protect fists, reduce the occurrence of cuts (and stoppages due to cuts) and encourage fighters to use their hands for striking to allow more captivating matches. Gloves were first made mandatory in Japan's Shooto promotion and were later adopted by the UFC as it developed into a regulated sport. Most professional fights have the fighters wear 4 oz gloves, whereas some jurisdictions require amateurs to wear a slightly heavier 6 oz glove for more protection for the hands and wrists.
Since repetition is critical to gaining proficiency in any skill, shadow boxing is a pivotal training technique because it provide fighters the opportunity to unlimited repetitions with little physical wear-and-tear. But please note that it's not just any reps, these should be high-quality reps with deliberate focus on specific skills and strategies. A key strategy is to film the sessions and make corrections to form and enhance or provide more complexities to the shadow boxing as the skill progresses. Bruce Lee summed this up perfectly when he said, "I fear not the man who has practiced 10,000 kicks once, but I fear the man who has practiced one kick 10,000 times." Great MMA boxers like Masvidal engage in quality reps along with other aspects of training that include good coaching and sparring. Shadow boxing is a time-tested, essential tool for building striking efficiency and effectiveness.
In February 2016, Michelle and Robert King, when asked about a spin-off, stated that there was a possibility for a spin-off series.[23] In May 2016, CBS was in final negotiations to set up a spin-off featuring Christine Baranski reprising her role as Diane Lockhart, but which would air on CBS All Access instead of the network.[4] The spin-off was officially ordered to series on May 18, with Cush Jumbo returning as well.[7] In September 2016, it was confirmed that the 10 episode spin-off would premiere in February 2017, with the story picking up a year after the final episode of the original series and seeing Diane pushed out of her firm after a financial scam involving her mentee wipes out her savings, resulting in her move to Lucca Quinn's firm.[2] The series was initially planned to air in May 2017, but was moved to February 2017 after production delays forced CBS to postpone the premiere of the new series, Star Trek: Discovery.[3] After months of speculation, CBS revealed the title for the spin-off series, which was revealed to be The Good Fight, on October 31, 2016.[24] It was announced that The Good Fight would premiere on February 19, 2017.[1] CBS released the first trailer for the spinoff on December 18, 2016, featuring footage from the premiere and later episodes.[25]
Karate, especially Kyokushin and other full contact styles, has proven to be effective in the sport as it is one of the core foundations of kickboxing, and specializes in striking techniques.[107][108][109][110] Various styles of karate are practiced by some MMA fighters, notably Chuck Liddell, Bas Rutten, Lyoto Machida, Stephen Thompson, John Makdessi, Uriah Hall, Ryan Jimmo, Georges St-Pierre, Kyoji Horiguchi, and Louis Gaudinot. Liddell is known to have an extensive striking background in Kenpō with Fabio Martella[111] whereas Lyoto Machida practices Shotokan Ryu,[112] and St-Pierre practices Kyokushin.[113]