I call it the "complex" inchworm because it's really a combination of a few movements. Start with your feet together and bend from the waist as you reach your hands to the ground. Perform an 'inchworm' movement by walking your hands out until you are in a push-up position. From here, rock your body back slightly and jump your feet up to the outsides of your hands.  Sink your butt down as low as you comfortably can for a great groin stretch, and then raise one arm overhead as high as possible, trying to draw your arm back so that it is in line with your ear. Lift the other arm in the same fashion and stand up. Lower your arms and repeat the whole sequence for five to six complete repetitions.
Train for cardio first, then power, then strength, then mix in some stamina. Your best and most effective workouts will combine all four. The great thing about programming your workouts is you can get creative and have fun doing it. There is an endless mixture of exercises, routines, reps, and time limits, that can produce incredible fitness. If you think that running, or rowing are the only ways to build up your cardio, then you need to read on and find out how you can get very creative with your exercises. How about punching a bag 4 times, then doing a sprawl and standing up and doing, two kicks on the bag, then doing a backdrop, then do 5 squat jumps, 5 push ups, and repeat those movements as quickly as you can for 9 minutes, then rest for a minute and repeat for another nine minutes. You have just combined unbelievable cardio, with power, and strength, with stamina all in one workout. Combining all of the characteristics of fitness is the best way to train. For instance doing a 5K run is great for your stamina and cardio, but it does little for your strength or power. Doing max deadlifts doesn't do much for your cardio or stamina, but it is great for your strength, Learn how to mix and match your workouts and you will get the best results, and have the most fun doing them… PS any strength or power movement done with reps that get your heart rate up, and your breathing labored, becomes cardio.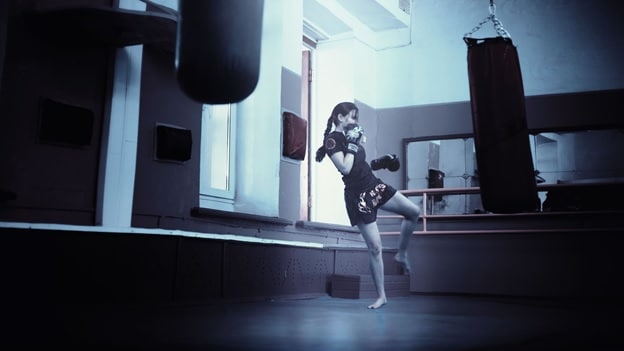 If you live in Harford County, Cecil County, or Balitmore County ( Aberdeen, Havre de Grace, Edgewood, Joppatowne, C. Milton Wright, Fallston, Bel Air, North Harford, North East, Perryville, Rising Sun),  then you  don't want to miss this chance to add to your over all Martial Arts skill set and even get the tools that will lead to a successful MMA career!
Start networking. Get online and start building a presence for yourself as an amateur fighter. Get your name out there. Attend UFC fights and make contacts in the sport, join message boards and participate as much as you can in the community. If you want to become a professional mixed martial artist, you've got to make your life revolve around the sport.
The history of modern MMA competition can be traced to mixed style contests throughout Europe, Japan, and the Pacific Rim during the early 1900s.[19] In Japan, these contests were known as merikan, from the Japanese slang for "American [fighting]". Merikan contests were fought under a variety of rules, including points decision, best of three throws or knockdowns, and victory via knockout or submission.[20]
(January 3, 2014), Fedor Emelianenko vs. Anderson Silva: Comparing and Contrasting 2 Legends, "What we can agree on is that both of these men changed the game. In a sport where everyone loses, these men beat the best of the best and held off the inevitable for the longest. Few men in any field can lay claim to such accomplishment and influence over their own sport. That is something to be applauded, examined and appreciated—not bickered over.", Bleacher report, Retrieved May 17, 2014
McGregor's surge to dominance could see him potentially lay claim to both the featherweight and lightweight UFC titles. The Irishman makes his welterweight debut against Nate Diaz this Saturday at UFC 196. The Diaz matchup is a consolation bout, concocted in haste after current lightweight champion Rafael Dos Anjos was injured in training. If McGregor wins Saturday, he'll eventually be given the chance to hold two belts simultaneously – a first in UFC history.
In a basic sense, political science is the study of political and governmental systems, as well as political thought and trends, including how they develop, and how they affect us. It combines aspects of political philosophy, history, and the social sciences to produce its own unique study that takes a critical approach toward examining these systems. Political science employs a balance of quantitative data and theory.
The isolation phase is where a practitioner improves the mechanics and qualities of a technique and learns to apply it against an opponent. It can involve a variety of training methods including solo practice in the air or on pads/bags/shields, limited or prearranged drilling with a partner against a prearranged attack or response, and live training within a limited technical context. Isolation phase training is done forever, both to improve the execution of techniques and to increase qualities such as speed, power, and timing.
For world-class fighting at its highest level, look no further than July's five-rounder between strawweight champion Joanna Jedrzejczyk and Claudia Gadelha. An intense fight from start to finish, Jedrzejczyk proved her championship mettle in the toughest fight of her career, and Gadelha showed that she has the talent and determination to make another run at the crown.
What is it? The term kickboxing has become kind of a blanket term to cover anything that involves punching and kicking, but Muay Thai has a few distinct features. It's a centuries-old practice that comes, predictably, from Thailand. In addition to fists and feet, it also involves knee and elbow strikes as well as a form of stand-up grappling called clinch. 

The firm is suing the Chicago Police Department for the shooting of a black undercover cop by his white colleague. Kurt's ballistics evidence paints an open-and-shut case, but the defence uses dirty tactics – including micro-targeting jurors with fake news about the plaintiff and his legal team via Facebook – to try and avoid a payout. Diane's marriage to Kurt is also tested as the defence exploits Kurt's affair and subsequent lies to Diane in order to undermine both Diane and the firm's evidence. While investigating a separate case for Jay's friend Craig, Maia and Lucca determine that Diane's client worked with his shooter as crooked cops planting guns to frame at least 30 suspects, including Jay's friend. The firm is offered a significant payout from the Chicago PD to stop the reopening of these more than 30 cases, but amid the celebrations, Jay quits as lead investigator after the firm chooses the Chicago PD settlement over justice for Craig.
"The atmosphere inside the Cove is truly special. Everyone trains with the safety of their partner in mind. Senior members are always willing to help newer students learn technique. The code of conduct is simple, graceful and never dramatized. My experience around Mr. Arnebeck has taught me that he is generous and easygoing, but also very skilled in the martial arts and gifted in their teaching. I am daily impressed with the passion he has for his life's work. I feel very fortunate to have this incredible place near enough to me to allow my training and I look forward to each class I attend."

The truth is, a street fight also has many different faces and takes on many different forms. One minute it can be a fist fight in a trendy yuppie bar while the the next could be a deadly knife fight in a godforsaken part of town. As the saying goes, no two street fights are ever the same! So your training will have to be "alive" and combat diversified!
Maia Rindell arrives at her new firm trying to ignore multiple anonymous calls and texts from angry clients of her father, who swear revenge for the money he stole from them. She meets Julius Cain, a managing partner, and Lucca Quinn, a third year associate. Cain brings all the lower level associates to a local union headquarters to offer free legal advice as part of their retainer with the union. While there, Maia ends up taking the case of Frank Gwynn, a man who is unfairly having his wages garnished due to charges of theft from his place of work. Meanwhile, Diane is visited by Maia's mother, Lenore, who asks Diane to meet with her husband, Henry. Lenore claims that they are innocent of the charges, laying the blame on their business partner, Jax, Henry's brother.During arbitration, Maia loses the case, but Lucca steps in to accuse the company of false imprisonment, as they had detained Frank for seven hours to question him about the theft. When the firm decides that the case is too small to invest resources in, Lucca proposes that they open a class action lawsuit against multiple companies who have garnished wages after accusing their employees of theft. Meanwhile, Diane moves into her new office, assisted by Marissa Gold, who has been demoted at Diane's old firm. Marissa decides to help with the class action in hopes of being hired as Diane's new assistant. She tracks down multiple employees who have had their wages garnished and adds them to the suit. Grateful, Diane accepts Marissa as her new assistant. Diane meets with Henry in jail, who claims that Jax framed him to escape prosecution. Diane promises to look into the matter, and as they part ways, Henry mentions that Lenore has terminal breast cancer. At Frank's trial, the prosecution uncovers evidence that Frank had been involved in an earlier theft at a previous job, casting doubt on his story. Frank loses his case, and the loss causes the firm to pull out of the class action lawsuit.Maia learns of her mother's condition from Diane, and despite her lawyer's advice to stay away from her parents to avoid being caught up in their financial scandal, she visits her. However, Maia learns that her mother lied about the cancer so that she would come see her. Although angry at her mother, Diane advises Maia to forgive her, since she is obviously lonely with Henry in jail. Maia visits her mother to make amends, but discovers her mother carrying on an affair with her uncle Jax.
This is not to say all companies are guilty of this, but to acknowledge that there is, and continues to be, an "old guard" in the professional world. Racism in the workplace often manifests itself in this way, through institutional racism. There are ways to fight institutional racism from the outside, such as through business regulations, legislation requiring fair hiring practices, and an array of legal resources, ethics boards, incident reporting procedures, and more. Still, fighting from the outside can only do so much.
For Regular Dudes: Don't take unnecessary breaks. Do something, anything, to keep you in the game. Sure, life gets busy and priorities sometimes need to change ("I can't change Junior's diaper honey, I gotta train legs tonight."), but you should never have to quit training completely. Have periods where you train less and periods where you train more. But never just do nothing.
Scenario training involves setting up a situation that mirrors a real assault. It's done in real environments with regular clothing and includes role playing so there is a designated attacker and designated victim. Although it is set up, if and when things get physical it should be live and "unlimited". Scenario training is a drill for the integration phase. Ideally, scenario training should involve at least 3 people. An instructor needs to design and set up the scenario and he or someone else should monitor how it goes down. There should be at least one attacker and one victim, and ideally a bystander or two that can be worked into the scenario.
Lucca and Maia are assigned separate ride-alongs with the police. Lucca's uneventful night turns surprisingly eventful after she realizes that the person behind a DUI is Francesa Lovatelli, Colin's mother. She calls Colin and Colin arrives at the police station. While there, Lucca tells him that she is 3 months pregnant and that it is his child. At the firm Diane and Adrian advise clients who are about to be sued over running a story about sexual harassment. In the course of the case Adrian bumps into a former student and is surprised by what she tells him about himself.
The clinch or "plum" of a Muay Thai fighter is often used to improve the accuracy of knees and elbows by physically controlling the position of the opponent. Anderson Silva is well known for his devastating Muay Thai clinch. He defeated UFC middle weight champion Rich Franklin using the Muay Thai clinch and kneeing Franklin repeatedly to the body and face - breaking Franklin's nose. In their rematch Silva repeated this and won again.[141]
Without the power of legal change, the status of civil rights in America would not be nearly as far along as it is today. Lawyers have the power to use the law to protect victims of racism, as well as change the law in order to protect civil rights and ensure equality. Sometimes racism is fought in the streets, and sometimes it is fought in courtrooms.
It's the old rabbit and the hare analogy that everyone has heard, but very few actually apply. As MMA evolves, the "rabbits" will be exposed. Being talented or tough will only last so long and developing a consistent work ethic will separate the winners from the losers. Skill and strength are not built in a few weeks; it takes years to develop a foundation of strength and skill and constant tuning to develop that power into a refined champion.

If we ever decide to start naming these awards, The Robbies may be an appropriate start, as it seems that Mr. Robbie Lawler is always a fixture in the Best Fight category. His January win over Carlos Condit is the latest example of his action-packed brilliance, and the fact that we're still talking about it in December shows you just how good this five-round war was.
In general, the injury pattern in MMA is very similar to that in professional boxing but unlike that found in other combat sports such as judo and taekwondo.[170] The most commonly injured body region is the head (66.8% to 78.0% of reported injuries) followed by the wrist/hand (6.0% to 12.0% of reported injuries), while the most frequent types of injury were laceration (36.7% to 59.4% of reported injuries), fracture (7.4% to 43.3% of reported injuries), and concussion (3.8% to 20.4% of reported injuries).[170] The frequency of impact to the ear and low utilization of ear protection leads to a high frequency of perichondral hematoma that can lead to cauliflower ear.[178]
Stress (training, workouts, etc) breaks the body down. You become stronger and build back up during times of rest. Taking time off is vital for your body and mind! Being fresh and prepared for one workout a day is more beneficial than forcing three and not retaining anything and performing like crap. Take a day or two off every week and at least one week off after a fight.
1) Training Mixed Martial Arts (MMA) will build confidence in you. When you know how to fight your mind is a little calmer, a little freer, and a little more relaxed. When you know how to throw a punch, break an arm, or choke someone unconscious there isn't too much threat of physical confrontation. And if there is threat, it is easier to walk away.

10) Chicks dig fighters. Women love violence. They will say things like "I hate violence. I hate those meathead guys that fight all the time." The women who say things like this have one thing in common: they're lying. Women absolutely love men who handle violent confrontation and come up the winner. It's in their nature, it's in their DNA. Something you won't read in a newspaper: Ghetto thugs who often beat up weak people are rewarded with sex by their ghetto mistresses. You're smarter than fighting all the time – but simply being able to handle violent confrontation (having the Eye of the Tiger) is enough to get them wet.
3) Training MMA is an excellent physical workout. Sparring (Boxing practice during training) or grappling (wrestling or ground-fighting practice) for 3-5 minute rounds is absolutely brutal cardio, which is why fighters are usually in top notch physical condition. There is no treadmill or stair-master in the world that can beat the benefits of practice fighting.
The Pediatric and Adolescent Health Center at Philadelphia FIGHT is dedicated to providing high quality, comprehensive, primary care to address the physical and emotional health needs of Philadelphia's children from birth through age 18, regardless of ability to pay. Located in Center City Philadelphia, we are specially tailored to care for children and adolescents who have experienced social adversity. Philadelphia FIGHT Pediatrics is home to some of the best pediatricians in Philadelphia. We have a pediatrician on our team who is also a certified lactation counselor, and we are also able to offer breastfeeding support onsite.

I attended the Alan Belcher MMA club in Dlbverville while I was in tech training at Keesler AFB this year. I wanted to find something that kept me engaged and active through all that studying. Never boxed before, these lady and gentleman were patient with me and I grew a love for boxing. I saw results regardless of if I was eating right (If I ate right would have been a lot more) the owner taught many of the classes! Now that I've graduated and went back home I just wanted to give a review to say If you're thinking about trying it you should!
Clover don't listen to any of these guys. I actually do Jiu-Jitsu and there are girls in the class and they love it. When I first started smaller weaker guys who knew the right techniques would be able to choke me out. Now I do the same to big guys that don't know what there doing. At your size you may not be able to throw or push alot of people but you can still trip them. This is why you should learn some Judo as well. Look up judo leg trips on youtube. And then once you get them to the ground a leg choke is the way too go. Your legs are probably still stronger than most guys arms.
I was greeted by a man named David Arnebeck. I could tell that he had a fighters build and an abundance of confidence. He made me feel at ease as we discussed my martial arts history and goals. I told him that I had taken 4 years of Tae Kwon Do but still felt as thought I was no good in a 'real' situation. I was good at forms but lacked the real sparring experience. He told me that many students at Warrior's Cove had joined because of the 'true to life' training. He said, 'kicking the air will do you no good.'  He said many things that I also heard from Bruce Lee's fighting philosophy. He had me convinced. I joined that week. I have now found what seems to be the most effective form of self defense and exercise.

Mixed martial arts appear everywhere. For example, mixed martial arts events and personalities appear in just about every magazine such as GQ, Newsweek, Time, Playboy as well as smaller publications like Black Belt Magazine (for a complete list of mixed martial arts magazines, see my list below). Mixed martial arts also frequently appear in television shows, xbox games and movies. Mixed martial arts have their reality TV shows such as Tapout, The Ultimate Fighter and Caged that focus exclusively on the life of mixed martial arts personalities. Mixed martial arts also have their own unique workout gear and clothing line such as Tapout, Bad Boy MMA, Affliction, Cage Fighter and Xtreme Couture. For better or worse, it seems like mixed martial arts has taken over the world.
Movement training prizes a combination of mindfulness, timing and precision drills that are seemingly arbitrary – like catching wooden sticks or marauding on all-fours like a panther – and seeks to optimize one's spacial awareness while in a fight. The training is said to help fighters navigate the rigors of combat with a sixth sense – meant distinctly for hyper-alertness – and if seized on properly, can endow an air of supreme of calm.
This is just one example of how to lay out your week.  There are many schools of thought and a lot of ways to mix up your schedule.  The main thing to consider is how each session taxes your body.  Wrestling, rolling live or sparring take their toll on your system and should be done sparingly throughout the week.  Our bodies need time to recover between these intense sessions.  That being said, we can spend that time learning new techniques, drilling and improving our skill between these sessions.
MMA training programs are often split into the individual components of striking, wrestling, and submission grappling. In addition, you must work on your strength and conditioning. Because of the numerous demands on your time, the best MMA training programs must be efficient. Generally, you will want to focus on the basics, the simple, most high percentage techniques such as the jab and cross, the double leg takedown, and positional work on the ground. You need to ensure that you are training smart and resting as well, otherwise you will be unable to perform to your best.
Someone who is extremely overweight, out of shape and sedentary will find it difficult to get into shape for fighting in 30 days, but anyone already living a healthy lifestyle should be able to better equip himself to be a competitive fighter in that time. Focus, discipline and motivation are the main characteristics you need to make this large goal doable. A healthy diet, strength training, aerobic exercise and fighting practice are also necessary for success on this challenging journey.
OK, so while round one will help you with your explosive conditioning and ability to recover fast, in this round we're going to the ground, which is where a lot of MMA fighter's spend a good amount of time. The Turkish Get Up is an amazing drill for stability, learning to create tension in the body and building static strength. It was a staple drill in the Turkish wrestling world back in the day. This is a very old school drill that is having it's renaissance right now and for very good reason, it's an amazing, basic, fundamental movement pattern.
Finally, you'll need to use fairly long rest intervals between each rep, as much 60-90 seconds – you can also use recovery to heart rates of 130-140 if you're using a heart rate monitor. For the best results, you can perform these intervals twice per week, at least three days apart. The low work: rest ratio, along with the high resistance used, makes these high resistance intervals both unique and effective at improving explosive-endurance.