"If you are a small man or are a woman and want the skills to fight off an attacker, my testimonial is a must read. I'm 5'7″ and weigh 140 pounds. I'm a small guy. In fact, my frame is very similar in size or smaller than many women. The beauty of MMA and Brazilian Jiu Jitsu is that size doesn't matter. I can defend myself in stand up punching and kicking situations, and take the fight to my opponent if needed. I now know that Judo throws and takedowns are easier for a shorter person because your center of gravity is lower and you can get under your opponent easier. If things go to the ground, I can submit or choke out an opponent who has 100+ pound weight advantage. Once on the ground everything equals out, and with training, you have a huge advantage. Your opponent will be a fish out of water. How can this be? MMA and Brazilian Jiu Jitsu (BJJ) aren't dependent on athleticism, strength or fitness. You use your brain, not brawn, and the laws of physics (leverage) to defeat your opponent."
Train for cardio first, then power, then strength, then mix in some stamina. Your best and most effective workouts will combine all four. The great thing about programming your workouts is you can get creative and have fun doing it. There is an endless mixture of exercises, routines, reps, and time limits, that can produce incredible fitness. If you think that running, or rowing are the only ways to build up your cardio, then you need to read on and find out how you can get very creative with your exercises. How about punching a bag 4 times, then doing a sprawl and standing up and doing, two kicks on the bag, then doing a backdrop, then do 5 squat jumps, 5 push ups, and repeat those movements as quickly as you can for 9 minutes, then rest for a minute and repeat for another nine minutes. You have just combined unbelievable cardio, with power, and strength, with stamina all in one workout. Combining all of the characteristics of fitness is the best way to train. For instance doing a 5K run is great for your stamina and cardio, but it does little for your strength or power. Doing max deadlifts doesn't do much for your cardio or stamina, but it is great for your strength, Learn how to mix and match your workouts and you will get the best results, and have the most fun doing them… PS any strength or power movement done with reps that get your heart rate up, and your breathing labored, becomes cardio.
Eat like a modern day Caveman. Try and stick with the basic primitive food groups such as meats, vegetables, fruits, nuts, and seeds, but don't get neurotic. What I mean by that is, try to be very mindful of what you're eating, and though you probably don't need that extra piece of bread, or potato, it won't be the end of the world if you eat it, and you do only live once. So unless you are training for an event where you have to lose weight, eat clean for the bulk of your meals, but don't deprive yourself of some of your simple dietary pleasures.

Regulated mixed martial arts competitions were first introduced in the United States by CV Productions, Inc.. Its first competition, called Tough Guy Contest was held on March 20, 1980, New Kensington, Pennsylvania, Holiday Inn. During that year the company renamed the brand to Super Fighters and sanctioned ten regulated tournaments in Pennsylvania. In 1983, Pennsylvania State Senate passed a bill that specifically called for: "Prohibiting Tough Guy contests or Battle of the Brawlers contests", and ended the sport.[5][6][38] In 1993, the sport was reintroduced to the United States by the Ultimate Fighting Championship (UFC).[39] The sport gained international exposure and widespread publicity when jiu-jitsu fighter Royce Gracie won the first Ultimate Fighting Championship tournament, submitting three challengers in a total of just five minutes.[40] sparking a revolution in martial arts.[41][42]
Another obvious area of importance for MMA fighters is strength training.  Unlike body builders, most MMA fighters don't want to lift weights in a manner that will see them bulk up too much. MMA fighters are more interested in gaining strength in multiple muscle groups while also maintaining flexibility to remain competitive in wrestling and grappling.  Many MMA fighters use very basic exercises like push ups, pull ups, squats and other calisthenics in order to work large muscle groups at the same time.
This total-body cardio warm-up takes three minutes—as long as a professional boxing round. Before you get started, practice the boxing stance: Keeping your knees slightly bent and your fists just below your chin, turn your body about forty-five degrees to the right and take a step back with your right foot. (If you're left-handed, switch sides and put your left foot behind your right.) That's your starting position.
Naqam Washington has done it all, from being the traveling trainer for the New York Knicks, the fitness coach of Puff Combs, and is currently the trainer for Netflix Marvel series, Daredevil. His passion outside of training his star clients (which also includes Penny Hardaway, Patrick Ewing, and Gary Sheffield) are Muay thai, Brazilian Jiu Jitsu, and nerding out on comic books. 
So many great articles Joel full of information that I would probably not have been able to decipher for several yeas. Cheers for making my work easier. I am a physiotherapist and have worked in professional soccer for several years in England and so much like you say that even at the elite level there is a lot of ineffective training methods been used I tend to agree just from my experience. Keep up the great work and when will the new book be out?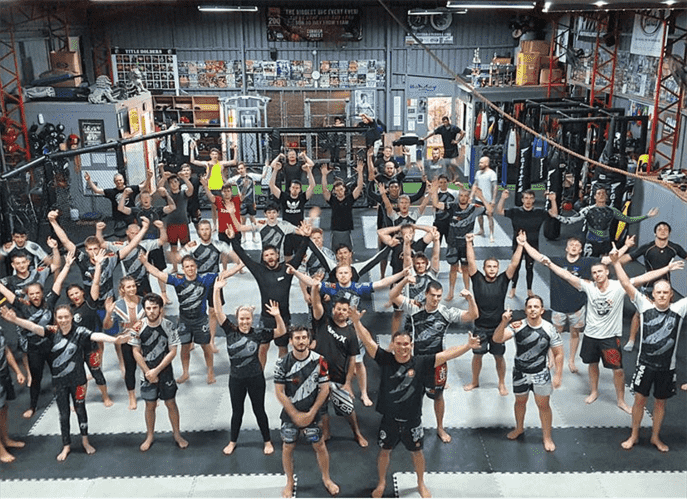 Parents Charged in Death of Missing Culver City Baby Put His Body in Suitcase and Threw it Away: LADA House Approves Bill to Expand Background Checks for Gun Sales and TransfersChain-Reaction Crash Involving 131 Vehicles Leaves 1 Dead, 71 Others Injured in WisconsinLAPD Seek Robbery Suspects, Man Impersonating Officer in 3 Separate Incidents at Chinatown Jewelry Stores
In the year 2000, MMA play-by-play commentator Stephen Quadros coined the popular phrase lay and pray. This refers to a situation where a wrestler or grappler keeps another fighter pinned or controlled on the mat to avoid a stand up, yet exhibits little urgency to finish the grounded opponent with a knockout or a submission for the majority or entirety of the fight.[130] The implication of "lay and pray" is that after the wrestler/grappler takes the striker down and 'lays' on him to neutralize the opponent's striking weapons, he 'pray's that the referee does not return them to the standing position. This style is considered by many fans as the most boring style of fighting and is highly criticized for intentionally creating non-action, yet it is effective. Some argue that 'lay-and-pray' is justified and that it is the responsibility of the downed fighter to be able to protect himself from this legitimate fighting technique.[130][131][132][133] Many consider Jon Fitch's style to epitomize 'lay and pray'.[134] Former UFC Welterweight champion Georges St-Pierre has been criticized by fans for playing it safe and applying the lay and pray tactic in his fights,[135] as has Bellator MMA Welterweight champion Ben Askren, who justified the tactic, explaining that championship fights are much harder as are five rounds long, compared with the usual three.[136]
"I began training at the Warrior's Cove after being introduced to the Army Combatives Program while preparing for a deployment to Iraq. I found the instruction at the Cove to be much more technical and in-depth that what the army could provide. My initial goal was to begin competing in grappling tournaments, which I was able to do after about a year of training. I was not very interested in the striking aspect at first, since I thought actual sparring and competing in mixed martial arts would be too intense for me. However, since Mr. Arnebeck incorporates complete striking and mixed martial arts training with the jiu-jitsu program, I was able to learn them both at the same time in an effective manner without feeling out of my comfort zone. Soon I felt that I would be comfortable competing in mixed martial arts, so I took my first professional fight after 2 years of training at the Cove and I have not stopped competing and training since. I am currently an assistant instructor at the Warrior's Cove and I enjoy being able to share the knowledge I have acquired over the past 4 years with people who are as excited to train and to learn as I am. Thank you Mr. Arnebeck and all of the great training partners at the Warrior's Cove!"
Mixed martial arts are extremely popular nowadays, but in actuality MMA has been around for a very long time. As a matter of fact, mixed martial arts date back to the Greco-Roman era where the ancient martial art Penetration appeared in the Olympic Games. Many historians agree that the mixed martial arts of ancient Greece and very similar to the mixed martial arts of modern day. However, mixed martial arts of today are considered to be one of the most regulated and controlled sports in the world.
Is it for you? If your primary goal is self-defense, this isn't the best choice since taking a guy to the ground on the street is a bad strategy. Also, if you have personal space issue, this is your worst nightmare. But, if you're in it for sport, this might be the best. BJJ tournaments are getting easier to find all the time and you won't end up with a broken nose (most of the time) if you lose. Be prepared to wear headgear, though, to avoid cauliflower ear.
These are the current top 10 MMA Gyms in the world based on how many top 15 ranked UFC fighters they currently train. There are 160 fighters, who train at over 80 different gyms, in the top 15 of the UFC's 10 divisions. The rankings are based on a system where a champion earns their gym 25 points, A #1 contender is 15, a #2 contender 10 and then a decrease in ranking equaling a decrease of 1 point until the ranking reaches #10. From there, rankings 11-15 are each worth 1 point. (updated July 2015):[68]
I call it the "complex" inchworm because it's really a combination of a few movements. Start with your feet together and bend from the waist as you reach your hands to the ground. Perform an 'inchworm' movement by walking your hands out until you are in a push-up position. From here, rock your body back slightly and jump your feet up to the outsides of your hands.  Sink your butt down as low as you comfortably can for a great groin stretch, and then raise one arm overhead as high as possible, trying to draw your arm back so that it is in line with your ear. Lift the other arm in the same fashion and stand up. Lower your arms and repeat the whole sequence for five to six complete repetitions.
Carl Reddick returns to the firm and immediately starts criticizing how Adrian and Barbara have been running it. An old friend needs help with an eviction and Diane steps up. Lucca and Colin make plans to meet at an art gallery where they run into an unexpected female. What was supposed to be a simple eviction goes in a completely different direction when Diane shows up at Paul Johnson's door and he makes some shocking allegations. Shortly thereafter, his attorney contacts the firm. Marissa helps Jay investigate the allegations and finally wins him over. Henry tries to talk to Maia, calling her and Amy multiple times and even showing up at the office. The two of them finally get worried and rush off to find him. Lucca joins Colin at a birthday party. Things get complicated fast and Lucca bolts, as she tends to do. Maia is upset when Henry ends up in the hospital and Lenore shows up with Jax. Diane continues to go toe-to-toe with Paul's attorney until Marissa and Jay find the evidence they need to expose him. The firm votes on who should be the managing partner – Carl or Adrian. Lucca makes a decision about her relationship with Colin.
I can say with confidence that 99 percent of us don't have the same schedule as a professional athlete. Instead of a 10 a.m. marketing meeting, professional fighters start their morning with the first of two daily training sessions. Their afternoon may consist of interviews, an appointment with the physical therapist, lunch, a nap, and then they're back in the gym for their second training session.
Barbara forces Diane and Lucca to work together on a case against assistant district attorney Colin Morello. The case involves a doctor who was arrested for performing surgery on a known terrorist. The partners have a meeting about their financial status and it turns out that a significant client has not paid their retainer this year. They are worried he may be moving firms now that Trump is in office. The firm investigator approaches Marissa to introduce himself. He is upset that she took it upon herself to round up the class action members last week. Maia visits her father in prison. She wants to warn him about her mother and Jax. The partners rush to find someone in their office who voted for Trump. Lucca has an unexpected run-in with Colin. Marissa works with the investigator to track down a crucial witness. The court rules in Diane and Lucca's favor, but the doctor is immediately arrested again. The partners make the individual who voted for Trump bid to the client. Maia visits her uncle where she finds evidence that could help her father. The court case turns again when a terrorist on the most wanted list gets involved.
Grappling Range - this is the third and final range of unarmed street fighting. Grappling range is divided into two different planes (vertical or horizontal). In the vertical plane, you can generally deliver impact techniques. Some include: elbow and knee strikes, head butts, gouging and crushing tactics, biting and tearing techniques. In the horizontal plane, you are ground fighting with your adversary and can deliver all the previously mentioned techniques, including various submission holds, locks and chokes.
10) Chicks dig fighters. Women love violence. They will say things like "I hate violence. I hate those meathead guys that fight all the time." The women who say things like this have one thing in common: they're lying. Women absolutely love men who handle violent confrontation and come up the winner. It's in their nature, it's in their DNA. Something you won't read in a newspaper: Ghetto thugs who often beat up weak people are rewarded with sex by their ghetto mistresses. You're smarter than fighting all the time – but simply being able to handle violent confrontation (having the Eye of the Tiger) is enough to get them wet.
The training program I'm sharing here on Breaking Muscle has been prepared for a professional MMA fighter, Richie J. Edwards. The first eight sessions are part of his strength phase. The sessions have been presented exactly as they happened without modifications, so you will be able to see when they had to be changed or when Richie was under-recovered. I have used a linear periodization method this time and trained Richie two times per week. Following his strength phase, we moved into a power phase. For you, we will be posting three sessions per week, but you can adjust them to fit your own MMA or BJJ training schedule.
HBO Europe and HBO Nordic began streaming all 10 episodes of the first season on June 1, 2017, in Bulgaria, Croatia, the Czech Republic, Hungary, Macedonia, Poland, Serbia, Slovakia, Slovenia, Sweden, Denmark, Norway and Finland, while India's Zee Entertainment Enterprises took exclusive pay-TV rights to The Good Fight for its English-language general entertainment channel Zee Café, which was also the Indian home of The Good Wife.[37]
Our MMA classes are open all levels of experience.  The  format is primarily learning the technical aspects of MMA with little live training and no sparring.  All serious MMA fighters train in various specific disciplines. These usually include Brazilian Jiu Jitsu, Wrestling, Boxing, and others.  Today, some gyms and martial arts schools teach pieces of these various arts and call it MMA Training.  In our classes we focus on techniques specific to MMA. An example is controlling an opponent against the cage.  Our cirriculum is based on techniques and methods used by Renzo Gracie's world class team.
Mixed martial arts promotions typically require that male fighters wear shorts in addition to being barechested, thus precluding the use of gi or fighting kimono to inhibit or assist submission holds. Male fighters are required by most athletic commissions to wear groin protectors underneath their trunks.[53] Female fighters wear short shorts and sports bras or other similarly snug-fitting tops. Both male and female fighters are required to wear a mouthguard.[53]
mma training methods