During the late 1960s to early 1970s, the concept of combining the elements of multiple martial arts was popularized in the West by Bruce Lee via his system of Jeet Kune Do. Lee believed that "the best fighter is not a Boxer, Karate or Judo man. The best fighter is someone who can adapt to any style, to be formless, to adopt an individual's own style and not following the system of styles." In 2004, UFC President Dana White would call Lee the "father of mixed martial arts" stating: "If you look at the way Bruce Lee trained, the way he fought, and many of the things he wrote, he said the perfect style was no style. You take a little something from everything. You take the good things from every different discipline, use what works, and you throw the rest away".[27]
Train for cardio first, then power, then strength, then mix in some stamina. Your best and most effective workouts will combine all four. The great thing about programming your workouts is you can get creative and have fun doing it. There is an endless mixture of exercises, routines, reps, and time limits, that can produce incredible fitness. If you think that running, or rowing are the only ways to build up your cardio, then you need to read on and find out how you can get very creative with your exercises. How about punching a bag 4 times, then doing a sprawl and standing up and doing, two kicks on the bag, then doing a backdrop, then do 5 squat jumps, 5 push ups, and repeat those movements as quickly as you can for 9 minutes, then rest for a minute and repeat for another nine minutes. You have just combined unbelievable cardio, with power, and strength, with stamina all in one workout. Combining all of the characteristics of fitness is the best way to train. For instance doing a 5K run is great for your stamina and cardio, but it does little for your strength or power. Doing max deadlifts doesn't do much for your cardio or stamina, but it is great for your strength, Learn how to mix and match your workouts and you will get the best results, and have the most fun doing them… PS any strength or power movement done with reps that get your heart rate up, and your breathing labored, becomes cardio.
In his instructional book, Anderson Silva admitted the influence of taekwondo in the formation of his unique style. In each of my fights, I tried to utilize techniques from all the various styles I had studied. I threw taekwondo kicks. I threw Muay Thai knees and elbows, and I used my knowledge of Brazilian jiu-jitsu on the ground.[117] Anthony Pettis has also stated that he is definitely a traditional martial artist first and a mixed martial artist second,[115] as well as his style of attacking is different [because of his] taekwondo background.[118]
Fuel your body right. MMA fighter Jon Manley recommends eating five clean meals per day, consisting of lean proteins, a variety of fruits and vegetables and unprocessed carbohydrates. Shop the outer rim of the grocery store to avoid the urge to purchase processed junk food that lurks on the inner-aisle shelves. Drink at least a gallon of water a day and drop your calories gradually if you need to lose weight.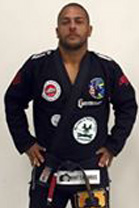 How to: Start off on all fours. Lift your knees off the floor and raise your hips slightly, bracing your core as you do so. That's the "bear" position! Keeping your shoulders and hips at the same height, step forward with your right foot while reaching forward with your right hand. Repeat on the left side and continue moving forward, building speed as you go. Roaring is optional.

"At the age of 44, I was severely overweight and developing some very painful arthritis that was limiting my ability to exercise, especially the sport that I loved most, basketball. I decided that I needed to get serious about controlling my weight, and wanted to find an activity that would be challenging and vigorous, without aggravating the damage to my joints. I've found all that and more with the cross training at Warrior's Cove. After a year and a half of training at Warrior's Cove, I've lost about 40 pounds, I'm stronger, more flexible and more energetic. I'm starting to feel like an athlete again! I've also discovered a lifelong pursuit that will continue to challenge and engage me. I highly recommend Warrior's Cove to anyone of any age that's looking for a positive and supportive place to work out and learn new skills."
In addition to unarmed training, self defense must include training in the use of and defense against weapons. See our weapons page for more detailed information. These days it's likely a real predator will have a weapon. Training to defend against blunt, sharp, and projectile weapons is essential. And because the use of weapons can give you a major advantage, learning to use weapons (including objects found in your environment) should not be neglected.
The Fit to Fight® Force Options Group training, for law enforcement and military personnel, ascribes to the notion that, irrespective of the context, fundamental combat skills are a must for physical altercations. While some special sensibilities and tactics are dealt with in the overarching structure of our force training progressions, much of training is rooted in learning to read, appreciate and respond to actual energies that are manifest in any and all situations that entail interpersonal human aggression. Fit to Fight® Force Options Group also delves heavily into the stressors that accompany said situations, their emotional and physical byproducts and methods for dealing most effectively with them.

What to expect: If you want to hit people, this isn't the place to be. The only time strikes are thrown are during kata or forms, which are pre-arranged fight scenarios designed to practice defending against strikes and show off the capabilities of Judo. You can also expect to get thrown on the ground. A lot. In fact, it's likely that every session, or at least most of them, will be spent practicing falling so it'll hurt less when you get taken down.
Is it right for you? Because the programs can vary so much, it's important to really check out the gym and observe a bit before committing. Since much of the sparring is done in full gear, there's often a lot of stuff to buy. That means more protection for you, though. And because of its Olympic status, finding opportunities for competition shouldn't be tough.
John Lewis – Lewis is an iconic name in Civil Rights in America. Lewis was a key participant in the Civil Rights movement; he is one of the original Freedom Riders, was one of the "Big Six" Civil Rights leaders, helped organize the March on Washington with Martin Luther King Jr., and was integral to ending segregation in America. Currently, he is the U.S. Representative for Georgia's 5th Congressional District.
The clinch or "plum" of a Muay Thai fighter is often used to improve the accuracy of knees and elbows by physically controlling the position of the opponent. Anderson Silva is well known for his devastating Muay Thai clinch. He defeated UFC middle weight champion Rich Franklin using the Muay Thai clinch and kneeing Franklin repeatedly to the body and face - breaking Franklin's nose. In their rematch Silva repeated this and won again.[141]
It is so effective in fact, it is considered to be required training for anyone who chooses to compete in the world renowned Ultimate Fighting Championships. Every single UFC Champion trains in Jiu-Jitsu or grappling. Bottom line, what you are going to learn in our Jiu-Jitsu classes works because its what professional fighters rely on when they step into the cage.
What's best is all of these exercises are basic. The volume of reps attached to them, however… well, good luck with them, because you might have to tap out before you can finish. With that in mind, be sure to adjust the workouts to your own fitness level. Push yourself, but don't overextend and put yourself in danger. Work up to the full number of reps over time.
In Ancient Greece, there was a sport called pankration, which featured a combination of grappling and striking skills similar to those found in modern MMA. Pankration was formed by a combination of the already established wrestling and boxing traditions and, in Olympic terms, first featured in the 33rd Olympiad in 648 BC. All strikes and holds were allowed with the exception of biting and gouging, which were banned. The fighters, called pankratiasts, fought until someone could not continue or signaled submission by raising their index finger; there were no rounds.[11][12] According to E. Norman Gardiner, 'No branch of athletics was more popular than the pankration.'[13] From its origins in Ancient Greece, pankration was later passed on to the Romans.[14]

Food is fuel, period. Feed your body good fuel and it will perform better. Stronger bones, quicker muscle recovery, strength, reduced inflammation, higher energy levels, and many other benefits come from eating healthier. One of the easiest ways to change your eating is to become conscious of everything that goes in your mouth. I'm not a psychologist, but somehow writing it down makes you see the difference between what you thought you were doing and what you were actually doing. Write it down!
BKB isn't the typical boxing event. Instead of the usual roped ring, there is a 17-foot diameter circular area called "The Pit," which is sunken in the ground a few inches. The fighters have nowhere to retreat to and have to go toe-to-toe with their opponent, with either five or seven 2-minute rounds of action. Here is where the excitement starts and requires even more quickness, power and conditioning than traditional boxing or mixed martial arts.
Pursuing a degree in history allows you to do just that. History is not just an isolated study of the past. We study the past in order to better understand the present, to see where we have been, how we got here, and to anticipate where we might be going. History is not the plain study of raw facts, but the interpretation of events, of causes and effects, of attitudes and actions, in order to make sense of shifts in civilization over time.
Determine the striking style you want to learn. If you want to be a well-rounded fighter, you'll want to develop solid punching and kicking skills. The most common stand up disciplines in MMA are Muay Thai kickboxing, boxing, Tae Kwon Do, and Karate. Watch fighters that practice the fighting disciplines that you're interested in to help you decide on what styles you want to pursue.[1]
In my instructional Street Fighting DVD, Armed to the Teeth: Mastering Upper Body Weapons, I discuss that one essential part of learning how to street fight is knowing and understanding it from a purely academic perspective. That's right. Reading books and studying instructional self-defense DVDs will certainly help you and its an important part of the learning curve that is often overlooked by many people. If you take the time to study street fighting like a science you will be way ahead of your opponent. And that's what it's all about - gaining the advantage over your adversary so you can prevail and get home alive in one piece!
Traumatic brain injury is "a disruption in the normal function of the brain that can be caused by a bump, blow, or jolt to the head, or penetrating head injury." It can range from mild ("a brief change in mental status or consciousness") to severe ("an extended period of unconsciousness or amnesia after the injury"). A new study assessed 1,155 patients with mild traumatic brain injuries, like a mild concussion, evaluating participants for symptoms of PTSD and major depressive disorder. The results found that approximately one in five people with a mild traumatic brain injury may experience mental health symptoms up to six months after injury, a rate approximately twice that of the control group. h/t Bustle • JAMA Psychiatry
Do you want to join the ranks of Randy Couture, Quinton "Rampage" Jackson, and Anderson Silva in becoming an Ultimate Fighter? With the proper guidance and background, you can learn to become the kind of well-rounded athletic competitor that the UFC is looking for. Learn to fight, get experience, and figure out how to go pro. See Step 1 for more information.
How and when to precisely use the different interval methods described above is a matter of your individual physical abilities, needs, goals, and overall training program. Just as no two athletes are exactly alike in these areas, no one-size-fits-all interval training method or interval training program will ever produce the same results as one that takes these individual factors into account.
Conor McGregor fits the mold of the flashy fighter. While some of his counterparts attend media events wearing an understated t-shirt and baseball cap, McGregor is most comfortable delivering post-fight invectives in a designer suit. He sits at indoor press conferences behind a veneer of cockiness and thick sunglasses, bolstered by a professional MMA record of 19-2.
MMA is tolerated in Belgium but not supported. In May 2012 the Belgian MMA Federation (BMMAF) was accepted by the International Mixed Martial Arts Federation as its third member, after several years of carrying out many of the tasks of a national federation under the former name of the Belgian Shooto and MMA Federation. Active in developing MMA in Belgium from 2005, the group later redefined their activities to include MMA in order to be able to use a cage. Registered as a federation in Belgium in 2006, the former Belgian Shooto and MMA Federation organized more than 1500 MMA bouts (Amateur, B class and A class), and built a structure for the sport nationally that included insurance, rules and regulation, and experience levels for fighters and technical seminars. The BMMAF has continued its activities as part of the wider MMA community under IMMAF.[196][197][198]
In many of my self-defense dvds, I have defined a street fight as a spontaneous and violent confrontation between two or more individuals where no rules will apply. A real street fight is not about the boxing ring, rules and regulations or any combat sports competition. It's about protecting yourself and your loved ones from serious bodily injury and possibly death.

Karate, especially Kyokushin and other full contact styles, has proven to be effective in the sport as it is one of the core foundations of kickboxing, and specializes in striking techniques.[107][108][109][110] Various styles of karate are practiced by some MMA fighters, notably Chuck Liddell, Bas Rutten, Lyoto Machida, Stephen Thompson, John Makdessi, Uriah Hall, Ryan Jimmo, Georges St-Pierre, Kyoji Horiguchi, and Louis Gaudinot. Liddell is known to have an extensive striking background in Kenpō with Fabio Martella[111] whereas Lyoto Machida practices Shotokan Ryu,[112] and St-Pierre practices Kyokushin.[113]