I enjoyed your views on this. I am a very strong 5'8″ female 170lbs I am a hell of a street fighter/boxer I would love to be more creative such as mma, problem where i live not alot options. Fighting has always been a goal of mine. I was very very fit after 2 kids I am trying get toned again. Training is very helpful again not alot options where I live currently. And yes I agree women love to see violence I don't just enjoy watching. It's a great learning skill for me. I was always told women can't so anything,but I have proven over amd over again this isn't true. Do you have any suggestion on home training without tons equipment that would be great for someone like me? And I see there is many ignorant people on this site. Haha 5 foot tall fighting a women my size and skill wouldn't do no justice with why ever training she has it would be ignorant of her to raise her hand to anyone. I have fought men and I wouldn't suggest she involve her self in suckle stupidity she could end up dead or hospital. I had my jaw broke by boxing with a very well trained built man girl walk away go anger management!
Hey Clover, get a weapon and learn how to use it. Pepper spray and a gun are good options to keep people away from you. Avoid people that are abusive. At 5 feet and 95 pounds you aren't going to be winning a lot of physical fights. I know a girl who is a Judo champion and weighed 110, and guys with zero training could make her tap out. Because most had like 30-70 pounds of muscle on her.
"He's probably the weakest guy that I'm gonna fight out of the guys that I've fought before ... we'll see on March 9th. ... If I want to end the fight in the first, I'll end the fight in the first. If I want to end the fight in the fifth, I'll end the fight then. So it's just whenever I get ready to. ... It really don't matter who I fight next. ... They wanted me to fight [Stipe Miocic] in January, right after I just lost to DC. So I just told them no, I needed some time off. ... My body, my mind wasn't quite right. ... If Francis is still at the top or whatever and gets the title shot, after Stipe I will fight Francis again and it will be a better fight than our last performance. ... Like I say all the time, it's the heavyweight division. It doesn't matter if the guys a black belt or if he's a world-class boxer. We still have a 50-50 chance. We're heavyweights, so it's just gonna take one punch." h/t MMA Fighting • Watch interview with Helen Yee
Train for cardio first, then power, then strength, then mix in some stamina. Your best and most effective workouts will combine all four. The great thing about programming your workouts is you can get creative and have fun doing it. There is an endless mixture of exercises, routines, reps, and time limits, that can produce incredible fitness. If you think that running, or rowing are the only ways to build up your cardio, then you need to read on and find out how you can get very creative with your exercises. How about punching a bag 4 times, then doing a sprawl and standing up and doing, two kicks on the bag, then doing a backdrop, then do 5 squat jumps, 5 push ups, and repeat those movements as quickly as you can for 9 minutes, then rest for a minute and repeat for another nine minutes. You have just combined unbelievable cardio, with power, and strength, with stamina all in one workout. Combining all of the characteristics of fitness is the best way to train. For instance doing a 5K run is great for your stamina and cardio, but it does little for your strength or power. Doing max deadlifts doesn't do much for your cardio or stamina, but it is great for your strength, Learn how to mix and match your workouts and you will get the best results, and have the most fun doing them… PS any strength or power movement done with reps that get your heart rate up, and your breathing labored, becomes cardio.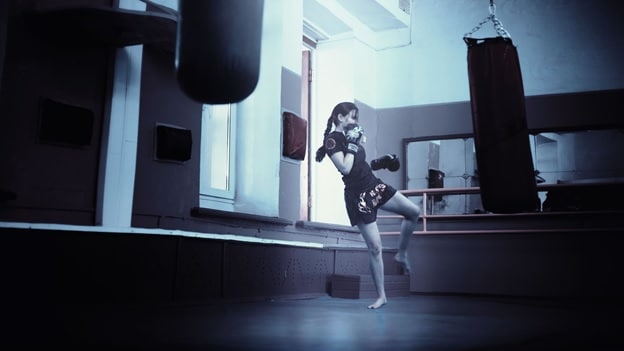 MMA fighters train brutally hard to compete in their sport. Their workouts vary widely between working on skill-sets, extreme conditioning, and strength training. Some fighters also learn the hard way that it is possible to over-train for a fight, if you can believe it.  Fighting might come from some of the earliest most instinctual place of human evolution, but modern fighters have taken training and preparation to whole new levels.
From the top of a push-up or hands-and-knees position, rotate your torso and sweep one leg underneath your body, extending it out on the opposite side. I make sure to cue my MMA athletes to keep that top elbow tight to the ribs at this point of the movement. Next, pull the leg back through and return to the starting position before repeating the movement on the other side. For an added challenge, a push-up can be added to this move.
These kickboxing classes at Team Quest Portland are offered at the beginner, intermediate and advanced levels. The class is typically 1 hour long and involves pad work using focus mitts, Thai pads, kick shields and heavy bags. The kickboxing training program at Team Quest in Portland is designed to teach students striking combos through our numbering system. 
One major area of focus for MMA fighters is their core.  Core training is based around strengthening abdominal muscles and is key to MMA athletes.  Building the abdomen helps in taking punches. Successful core training could include exercises like sit-ups, crunches, and leg raises.  Many athletes work with additional weights and medicine balls in order to accelerate their strength development.
I would stick to a beginner routine, as the BIGGEST difference in my book between a beginner routine and the more advanced is form. Proper form is critical, as this not only can help prevent injuries, but you actually get more out of your workout with proper form. Additionally, you're giving your central nervous system time to adjust; jumping into a more advanced routine can cause problems.
Español: empezar a aprender artes marciales mixtas, Português: Começar a Aprender Artes Marciais Mistas, Italiano: Iniziare a Praticare le Arti Marziali Miste, Русский: начать заниматься смешанными боевыми искусствами, Français: se lancer dans les arts martiaux mixtes (MMA), Bahasa Indonesia: Memulai Seni Bela Diri Campuran, Nederlands: Beginnen met mixed martial arts, Deutsch: Mixed Martial Arts anfangen, 中文: 开始练综合格斗
"The best thing about the Cove, is the atmosphere. It's friendly and cooperative with fantastic instruction from some of the best martial artists in the area. When Mr. Arnebeck demonstrated Brazilian Jiu-Jitsu, I was amazed! I outweighed him by 100 pounds, but he tossed me like a rag doll and submitted me with ease. That's when I realized cross-training is the way to go. You must be able to defend yourself both standing and on the ground. Otherwise, you will have a weakness that can be exploited."
These programs can be useful to members of a particular ethnic group for developing a better understanding of how they fit into American culture, historically and presently, as well as what can be done next to continue making social progress. This course of study presumes that without an understanding of where we have been, we cannot hope to get anywhere.
Picking up one year after the events of the final episode of "The Good Wife," an enormous financial scam has destroyed the reputation of a young lawyer, Maia Rindell (Rose Leslie), while simultaneously wiping out her mentor and godmother Diane Lockhart's (Christine Baranski) savings. Forced out of Lockhart & Lee, they join Lucca Quinn (Cush Jumbo) at one of Chicago's preeminent law firms. All new episodes will be available weekly on Sundays exclusively for CBS All Access subscribers. (TV-MA L, S, V)
If you find you are overtraining, then cut back on your workouts, starting first with the sprint portions of the cardio, and then with some of the strength training if need be, or take the day off altogether. Once you have recovered begin adding back exercises slowly to find your limit. You may find that your resting heart rate drops over the twelve weeks. This is good, and it's a sign that your cardio is improving.
The AEROBIC system (also known as the oxidative system) is the slowest acting energy system in our body, yet it is capable of creating the most energy. At rest, around 65-70% of your energy comes from the utilization of fat, 25-30% comes from carbohydrates, while less than 5-10% comes from amino acids (protein). As intensity increases, these percentages shift - carbohydrates become more important because of its quicker availability in the body. That's why you need adequate blood sugar (carb) levels when exercising or doing intensive activity. The aerobic energy system is the predominant system involved in exercise lasting 2-3 minutes, to hours and even days. The aerobic system (aero meaning air) requires oxygen to utilize fat stores (body fat) and carbohydrate stores (in your muscles and liver). 

To begin, lie on your side and draw your top knee up to 90 degrees using a foam roller or medicine ball. Bring your hands together out in front of you and begin the movement by turning your top hand over and sliding it along the ground, up and over your head. The goal is to keep the back of the hand as close to the ground as possible throughout the entire movement. Once you reach your butt, reverse the movement and slide your hand back around the head to the starting position. Perform eight to 10 circles per side.
If you prefer to work with adults, there are many options. For example, there is much work to be done in the area of reintegrating ex-convicts into society, by helping them get career training and employment, maintain their parole terms, remain sober, and avoid recidivism. Racism in housing is still a major issue, and you can fight racism by helping people secure affordable housing.
The significance of strong investigative journalism and reporting cannot be overlooked. In a time when there is a prevailing sense of skepticism concerning the news media that can be seen on both sides of the political aisle, when the lines between real news and fake news are becoming more and more blurred, and where partisan politics in reporting is standard fare, the need for serious, objective, and critical journalism has rarely been more pertinent.
The ALACTIC system (aka the phosphagen or phosphocreatine system) is the energy system capable of producing the most energy within the shortest amount of time. A fight-ending flurry or combination uses this energy system. The alactic system is different to the aerobic and anaerobic system in that it produces energy by directly breaking down the ATP molecule, bypassing the conversion of fats, carbohydrates or protein into ATP. However, our body has limited stores of ATP, therefore the alactic system is the quickest to fatigue and can only produce large bursts of energy for up to 10 seconds. Fully restoring phosphocreatine and ATP stores takes around 5-8 minutes; this restoration time can be influenced by strength & conditioning training, as well as the level of development of the aerobic and anaerobic system. 

best fight program