I wasn't sure what to give this one but it was well done so I'll settle for a 4... I've done martial arts for years but never got into mma and figured I would take a look. I saw that it had strikes and takedowns, grappling positions, and so on... all presented for the beginner(?). So far, so good. Then I saw the footwork section which made me cringe a little. When presenting forward movement (for example), he leans way back while sticking the lead leg out and finally drops forward. While stepping back he leans far forward. Later there's a quick note on "advanced shuffles" in which its said things are done more fluidly, but no picture there. I'm sure the way the steps were done was just for slow illustrative purposes (?) but they look like someone was testing unsafe ice, not moving in a fight. Anyway, things go good again after that. Too many combinations for me (anyone can link together some 1-2s, etc.) but this is for beginners (I think). After some more good stuff with very good clear pictures and explanations... another complaint: knives. I flipped back to the author's style after the footwork examples and multiple pages of knife fighting in an mma book to see that his style seems to primarily be jeetkunedo. I figured it was an mma book by an mma guy, not a mma book by a jkd guy. Not that this makes it bad but still... Anyway, theres a knife section, in the clinch chapter there is knife fighting from the clinch, in the ground fighting section there is more knife fighting. for a fairly thin (but fairly comprehensive) book on mma I'd rather there not be so many pages on knives and combos. Now after all that you might think I hated the book or something but no. for someone (almost like me) who knows little of mma or martial arts in general and wants to learn, its a good book. For someone with any knowledge on mma or who has done martial arts for years, there is less to gain. Even with no mma background, there wasn't much that I hadn't seen or done before (ready guard, jabs, hooks, elbows, double leg takedown, etc...) I would market it as a book for beginners or maybe call it mma self defense and then half my complaints would disappear (I guess it does say mma techniques, it doesn't say it is purely mma but I'd make it more clear). as for the video, that's not very clear but in my opinion the video was just an extra freebee that came with the book so I don't care about production quality. i'd throw in one final complaint about the defense against the oblique kick but this has gone on long enough. basically, complaints aside, there are good explanations, great tips, very clear pictures, he covered a lot of ground and made a good book. I also like the parts where he shows self defense options (where you can use dirty tricks to defend yourself with moves that aren't allowed in mma). my personal complaint is that I learned little but maybe that won't be true for you.
For the best results, try 2-3 plyo sessions per week along with your resistance-training regimen. Just make sure to give yourself about 48 hours of rest in between plyo sessions to allow for full recovery. Some great plyometric exercises for MMA fighters include plyo push-ups, single-arm throws, side throws, jump squats, bounding, and lateral high hops.
Is it for you? If your primary goal is self-defense, this isn't the best choice since taking a guy to the ground on the street is a bad strategy. Also, if you have personal space issue, this is your worst nightmare. But, if you're in it for sport, this might be the best. BJJ tournaments are getting easier to find all the time and you won't end up with a broken nose (most of the time) if you lose. Be prepared to wear headgear, though, to avoid cauliflower ear.
Volume indicates how much total work is being put into endurance training. In sports like running, cycling and swimming, volume will be represented by the total distance travelled during training. In team sports and sports like MMA, training volume is measured by using the "time in zone" method. How much time per training day or training week are we spending in each training zone? This will give us an idea on how much rest an athlete needs, or whether we need to push them harder to achieve the level of conditioning we're seeking.
The sport reached a new peak of popularity in North America in December 2006: a rematch between then UFC light heavyweight champion Chuck Liddell and former champion Tito Ortiz, rivaled the PPV sales of some of the biggest boxing events of all time,[44] and helped the UFC's 2006 PPV gross surpass that of any promotion in PPV history. In 2007, Zuffa LLC, the owners of the UFC MMA promotion, bought Japanese rival MMA brand Pride FC, merging the contracted fighters under one promotion.[45] Comparisons were drawn to the consolidation that occurred in other sports, such as the AFL-NFL Merger in American football.[46]
I currently do 4 days of MMA training, Mon, Tues, Thurs, Fri. Im looking for a well balanced gym routine. We do strength training in my gym which we do with bodyweight (pushups, situps, squats, etc) in 2 - 3 min rounds. i tried going to the gym but may have pushed to hard and was out of training for a day. this looks like doable with my schedule, but i want to target more muscle groups.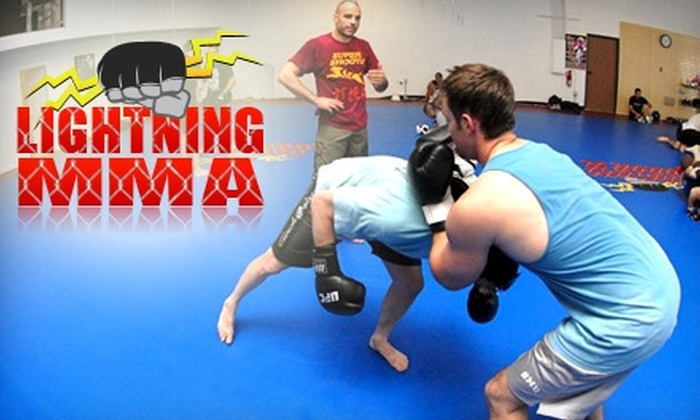 Our instructors are professionals who are passionate about MMA Competition and training. They are some of the area's best and most exciting fighters but most importantly they are excellent at conveying their knowledge to students.  Our reputation is built on great instruction, so we are very proud of the quality of classes and practices facilitated by our instructors.
Learning how to street fight with the skill and confidence of a sesoned fighter is something that can certainly be achieved. As a matter of fact, I have dedicated my entire live to teaching law abiding people how to defend and protect themselves in the streets. However, I have to tell you from the start that it's not such and easy task; it will require a bit of dedication on your part. But, if you are willing to do some serious studying as well as some practical self-defense training you could learn the skills necessary to win a street fight. 
Amateur Mixed Martial Arts is the amateur version of the Mixed Martial Arts in which participants engage largely or entirely without remuneration. Under the International Mixed Martial Arts Federation (IMMAF) and World MMA Association (WMMAA), it is practiced within a safe and regulated environment which relies on a fair and objective scoring system and competition procedures similar to those in force in the professional Mixed Martial Arts rules.[153][154] Amateur MMA is practiced with board shorts and with approved protection gear that includes shin protectors, and amateur MMA gloves.
Entirely valid, but that aside, what would be worth learning for practical purposes? Being this small is a pain in the ass and I'd like to at least not die in some random encounter that I didn't manage to avoid. I'm sure if you put yourself in my shoes for a second you might understand why it would get old to be completely defenseless. I suppose I could get a gun but those can always be taken away.
I am currently a college student and am working on a project where I have to plan an entire year of training for an MMA fighter. It needs to include when the fighter should peak, what types of workouts and why, should they do aerobic or anaerobic workouts, overload, progression, etc. If you could point me in the right direction to research this project I would really appreciate it. Thank you so much!
Knowledge defeats ignorance, and philosophy is the area of study for those who love the pursuit of knowledge. Philosophy requires us to ask complex questions, questions whose answers can provide us with a better understanding of our world and ourselves. The knowledge gained in this pursuit, in turn, allows us to better understand issues like racism.
Pentagon MMA is a world class mixed martial arts training center in Arlington, Virginia offering group classes and personal training in Muay Thai (Kickboxing/Thai Boxing), Brazilian Jiu-Jitsu, Judo, Women's Fitness Kickboxing, Boot Camp, and Kids' MMA. We firmly believe that each and every one of you can and should train at your full potential and get the best results you deserve. Are you looking to lose weight? Stay in shape? Learn effective self-defense techniques? Train like a fighter? Compete on an amateur or professional level? Whatever your goal may be, you are in the right place. Train with our world-class award winning instructors and see the difference Pentagon MMA can make in your life. Whether you are a beginner or a top-level athlete, Pentagon MMA will take your mental and physical fitness to the next level. Stop by today to tour our facility and try out a class on us!
Knowing that a client's fitness level and lifestyle will most likely differ from that of a professional athlete, it's important to make the necessary adjustments to a training routine. Are these big adjustments? Absolutely not. Professionals in many ways are like the rest of us: their bodies can get better and stronger with squats, deadlifts, push-ups and pull-ups.
Our new members include men & women that range from the total beginner, to professional fighters and high ranking martial art instructors.  Everyone starts at a level appropriate for their existing skills, and advances at their own pace. In every class, we divide beginners into one group, and intermediate-advanced into a second group. No matter what your skill level or fitness level, our instructors will make your transition into class easy and enjoyable! Click Here if you want to read over 150 Reviews from Warrior's Cove Members!
At Elite MMA, we pride ourselves on offering a comprehensive variety of mixed martial arts classes and work with each student to find the program(s) that fit their needs. Not everyone is looking for the same outcome from joining Elite MMA so our classes allow you to choose the subject that interests you the most, to try something new, or try them all. At Elite MMA, the instructors and staff will work with your unique goals in mind to find the right fit for your needs.
Movement training prizes a combination of mindfulness, timing and precision drills that are seemingly arbitrary – like catching wooden sticks or marauding on all-fours like a panther – and seeks to optimize one's spacial awareness while in a fight. The training is said to help fighters navigate the rigors of combat with a sixth sense – meant distinctly for hyper-alertness – and if seized on properly, can endow an air of supreme of calm.
Drop the white knight routine and face facts. Women on average a weaker/smaller than men. If a woman is going to be traveling down the street, it's in her best interest to carry some form of protection in case some punk wants to mug/rape/kidnap her. Nothing sexist about it. It's the facts of life. Hell, I've been studying martial arts for 15 years and I still carry something, be it a tactical flashlight/knife/keys between the fingers, to give me an edge over a thug who wants to start trouble.
The integration phase is where a technique is integrated into "unlimited", live, random training. In the previous isolation phase techniques are practiced in limited sparring, so a practitioner should already understand and be able to apply techniques in a live situation. The primary difference between the isolation and integration phase is that in the integration phase all techniques and ranges are allowed.
The truth is this: if you really put your mind to it, went back to school and graduated with an honors degree in exercise science, trained dozens of fighters in person and hundreds of fighters around the world while receiving feedback and tweaking the program to make it better and better, in about 10 years or so you could probably develop, perhaps, an equally effective strength and conditioning program for MMA yourself, just like I did with the Ultimate MM Strength and Conditioning Program. best mma training program