Any recommendations for a twenty five year old female who is barely over five feet tall and ninety five pounds? I've gotten up to three hours of kundalini a day and 100 pushups straight, as well as two years wushu, but I've been in some seriously bad fights and had the shit kicked out of me. I really don't want to keep being so damn small and unable to defend myself.
Mixed martial arts are extremely popular nowadays, but in actuality MMA has been around for a very long time. As a matter of fact, mixed martial arts date back to the Greco-Roman era where the ancient martial art Penetration appeared in the Olympic Games. Many historians agree that the mixed martial arts of ancient Greece and very similar to the mixed martial arts of modern day. However, mixed martial arts of today are considered to be one of the most regulated and controlled sports in the world.
Using a completely scientific approach to weight training progression, a cycle will be designed to meet your needs. For example, a Hypertrophy phase will increase cross sectional area of the muscle. A Maximum Strength phase will increase recruitment and strength of the muscle. The Power Transfer phase will help those who wish to increase the pure speed of their actions and the Competition phase to increase your strength, power, size, and speed throughout your "in-season".
You say you're a streetfighter/boxer right? And female? Mother of two kids? Who are you tell anyone of any height or weight that shouldn't learn some self defence? You're no better that told that poor woman which clearly asked for logical and practical advice on protecting herself as what anger management will accomplish? How will it accomplish if she is the one been physically attacked. I'm a short woman myself and fought many in my time and still kicking. I've fought both girls and guys but I rather to train with guys as gives me the drive to become stronger. Yes, they're stronger and taller than I am but that don't stop me from actually finding a way and beating their ass which I have. The men fear me in my dojo because I've proven no matter how short fat skinny masculine or gender. It is the spirit of the individuals strength and determination. I train in Hapkido, taekwondo, muay Thai kickboxing and cage even done boxing too. I'm respected where I train, and I train with men that enjoy doing it with me and I ain't afraid to take a hit even dish it. I'm ashamed and disappointed in your view as any proper teacher would not be pleased with your opinions. Seems to be, you'll never understand the concept what she is experiencing as never had to worry due to the fact you had to be one of those enjoyed going around beating others. As for women love violence, what a load of shit! Again, you must be implying those who are beaten by thier spouses must loved been treated that way, or victims of rape/murder must loved it too. You had hypocrited yourself, and shamed your so called femininity.
In 2011, the Ranik Ultimate Fighting Federation (RUFF) hosted the first MMA event in Shanghai sanctioned by China's governing body for combat sports, the Wushu Sports Management Center of the General Administration of Sport in China. RUFF formally crowned the first Chinese national MMA champions in 2013 with each champion receiving 1,000,000 RMB in prize money.[214] Other MMA promotions in China include the 'Real Fight Championship', which has produced three events in Henan and Beijing.
Carl Reddick returns to the firm and immediately starts criticizing how Adrian and Barbara have been running it. An old friend needs help with an eviction and Diane steps up. Lucca and Colin make plans to meet at an art gallery where they run into an unexpected female. What was supposed to be a simple eviction goes in a completely different direction when Diane shows up at Paul Johnson's door and he makes some shocking allegations. Shortly thereafter, his attorney contacts the firm. Marissa helps Jay investigate the allegations and finally wins him over. Henry tries to talk to Maia, calling her and Amy multiple times and even showing up at the office. The two of them finally get worried and rush off to find him. Lucca joins Colin at a birthday party. Things get complicated fast and Lucca bolts, as she tends to do. Maia is upset when Henry ends up in the hospital and Lenore shows up with Jax. Diane continues to go toe-to-toe with Paul's attorney until Marissa and Jay find the evidence they need to expose him. The firm votes on who should be the managing partner – Carl or Adrian. Lucca makes a decision about her relationship with Colin.
Train with the best in the business. Our work ethic and attention to detail is what separates us from other performance training facilities when it comes to NFL Combine prep work. Having combined decades of experience coaching at the collegiate level at both West Virginia University and the University of Michigan, the NFL Combine has always been a top focus of ours and priority for our athletes. We tackle combine training from all angles, increasing your physical strength and speed as well as your mental toughness with a hands-on approach and an emphasis on walking our athletes through the proper biomechanical positions ensuring their performance on testing day as well continued performance throughout their careers.
Since "retirement" it seems GSP has been a busy guy, it's been a few years since Rushfit came out and he's back in the game with Touchfit. This is a mobile training app that'll allow you to do your workouts anywhere, with video demonstrations right on your mobile device. The real beauty here lies in the data, Touchfit keeps track of everything, even your recovery time to make sure that you are avoiding injuries and not overtraining. There are over 500 different video exercises to keep things fresh, yet surprisingly there aren't any lessons on point fighting or laying on top of your opponents. The app is free to download, and then $10 for a yearly subscription, or $2 for a week. You don't have to be making GSP to get this MMA workout.
There are multiple contrasting studies on whether the addition of more frequent high intensity endurance training yielded any performance improvements. Some researchers found athletes that don't respond well to high volume low-intensity training showed greater improvements when they increased their frequency and volume of high intensity training. However on the contrary, the benefits of performing more high intensity training in already well-trained athletes, are limited.
Dr. Serena Goldstein is a Naturopathic Doctor who specializes in hormone concerns such as weight, low energy, stress, PMS, peri/menopause, and andropause through nutrition, homeopathy, and botanical medicine. Dr. Serena has been published in well-known health and wellness resources, such as MindBodyGreen, Consumer Health Digest, and the Hearty Soul, and appeared on Sirius XM NYU Doctor Radio.
Wedge one end of a barbell into the corner of a room (the edge of a bench can also be used). You may want to wrap the end of the bar in a towel to prevent slipping or damage to the walls. Place a light weight-plate on the other end of the bar, and grab the bar with your right hand near the edge. Get into a fighting stance, left foot forward (or right foot, if you're a southpaw) and knees bent. Now bend both your knees and transfer your weight onto your back leg, as if you were crouching down before a jump [1]. 

Each muscle is covered by capillaries that provide it blood and energy. Fighters that neglect endurance work crucial for increasing mitochondria density and capillarization of these muscles will have poor conditioning. Muscle mass and elite level conditioning are not mutually exclusive. Fighters who have focused on increasing muscle mass over the long-term while concurrently using training methods to increase capillarization will achieve the best results.
These kickboxing classes at Team Quest Portland are offered at the beginner, intermediate and advanced levels. The class is typically 1 hour long and involves pad work using focus mitts, Thai pads, kick shields and heavy bags. The kickboxing training program at Team Quest in Portland is designed to teach students striking combos through our numbering system.  

Do you want to join the ranks of Randy Couture, Quinton "Rampage" Jackson, and Anderson Silva in becoming an Ultimate Fighter? With the proper guidance and background, you can learn to become the kind of well-rounded athletic competitor that the UFC is looking for. Learn to fight, get experience, and figure out how to go pro. See Step 1 for more information.
However, in the same period of time, America has seen alarming spikes in registered hate groups across the board, especially racially divisive hate groups, such as white nationalist and separatist groups. 2015 was dubbed "The Year of Enormous Rage" by the Washington Post. The values of fascism have been increasingly validated in the public and political spheres.
Muay Thai, a form of martial arts that includes boxing, Muay Boran and kickboxing, is also an important training element. Muay Boran is the ancient art that evolved into modern Muay Thai, with an emphasis on hand-to-hand combat. You will need to learn punching techniques, elbow techniques, kicking skills, as well as knee strikes and foot thrusts. One of the advantages of Muay Thai is that it is fairly simple and straightforward and fairly easy to incorporate into your fights.
The Alaska Airlines Mileage Plan caters to flyers who frequent various destinations in Alaska, West Coast cities (like Seattle and Portland, Oregon), major transportation hubs (like Atlanta and New York City), as well as destinations in Canada, Mexico and Costa Rica. By joining the Alaska Airlines Mileage Plan, you can start earning miles on every Alaska Airlines flight you take and eligible flights on Alaska Airlines' 17 partner airlines, including American Airlines, Emirates and British Airways. You can also earn miles by making everyday purchases with the Alaska Airlines Visa Signature Card or by staying with seven participating hotel partners, including Best Western, InterContinental and Marriott. The miles you earn can be used toward free flights on Alaska Airlines and other participating carriers, partner hotel stays, magazine subscriptions or donations to charity. 

While we may be known for training professional athletes and our Neurological Reengineering programs, BARWIS truly is a place for everyone to enjoy. Check out the list of core services we offer for the general public and please feel free to contact us with any questions you may have. Drop by the center anytime during business hours for a workout and who knows... you might even catch a glimpse of what a professional athlete's workout is like while working up a sweat!
This program will help you maintain or improve the range of motion about your joints and surrounding muscles; reducing the risk of injury and promoting performance. Many times our common hamstring, back and knee pain can be caused from inflexibility and tight structures. Following an organized strteching program can usually eliminate these. Are you an athlete? Being able to move through a full range of motion can increase power output by optimizing biomechanical leverage position.
We're confident you'll love your Onnit supplements. If the product doesn't perform for you, however, we're not gonna play games with you. Order any of our entry size supplements, and if you don't like it, you can keep it! Notify our team, telling us why it wasn't a fit for you, and we'll get you a refund right there on the spot - no return necessary. We just ask that you try it out for at least two weeks to give it a fair shot.
On February 29, 2012, the International Mixed Martial Arts Federation (IMMAF) was set up to bring international structure, development and support to mixed martial arts worldwide.[162] IMMAF launched with support of market leader, the Ultimate Fighting Championship (UFC).[163][164] The IMMAF is a non-profit, democratic federation organized according to international federation standards to ensure that MMA as a sport is allowed the same recognition, representation and rights as all other major sports. The IMMAF is registered under Swedish law and is founded on democratic principles, as outlined in their statutes.[165] As of March 2015, there are 39 total members from 38[166] countries, which come from Austria, Bahrain, Belgium, Brazil, Bulgaria, Cameroon, Canada, Czech Republic, Denmark, El Salvador, Estonia, Finland, France, Germany, Greece, Iceland, India, Ireland (Northern Ireland), Italy, Jordan, Lebanon, Lithuania, Malaysia, Nepal, The Netherlands, New Zealand, Norway, Pakistan, Paraguay, Poland, Portugal, Romania, The Seychelles, South Africa, Sweden, Switzerland, Tajikistan, Ukraine, the United Kingdom, and the United States of America.[166] [166][166]
World Mixed Martial Arts Association (WMMAA) was founded in 2012 in Monaco by M-1 Global commercial promoters and is under the leadership of the General Secretary Alexander Endelgarth, President Finkelstein and Fedor Emelianenko.[156][157][158][159] The World MMA Association is an organization that manages and develops mixed martial arts, it establishes rules and procedures and hosts MMA competitions. World MMA Association includes national MMA organizations, representing the sport and registered in accordance with national laws.
In January 2013, the Cambodian Mixed Martial Arts Association was created under the Cambodian Martial Arts Federation. At this time there are no MMA events organized with the CMMAA approval. Television channel MYTV holds its KWC promotion under the sanctioning of the Cambodian Boxing Federation, responsible for sanctioning all boxing and Kun Khmer events in the country, in direct contrast to the situation in neighbouring Thailand.
This site contains HIV prevention messages that may not be appropriate for all audiences. Fight.org presents published material, reprinted with permission and neither endorses nor opposes any material. All information contained on this website, including information relating to health conditions, products, and treatments, is for informational purposes only. It is often presented in summary or aggregate form. It is not meant to be a substitute for the advice provided by your own physician or other medical professionals. Always discuss treatment options with a doctor who specializes in treating HIV. FIGHT is a Pennsylvania non-profit corporation, and is recognized by the IRS as a 501 (c) (3) non-profit.
"I am a huge fan of BJJ and MMA so this chance for me to learn what I have seen is very very cool. It is an honor to be taught by you after learning so much about your martial arts history and your practice under Rickson. The Warrior's Cove is, in my opinion, the only place to go for martial arts training. Everything is very practical due to it being based on real life scenarios. I have learned so much in just the 4 weeks I have been there. I have a very demanding job (Senior Loan Officer) and I am almost always able to work around my schedule because of the class availability. I think whether you are a beginner looking for self defense skills or you want to expand on past martial art experiences, the Warrior's Cove has what you are looking for. Thank you Dave for everything! I look forward to my future with the Cove and getting a Black Belt from you or Rickson himself!"
When MMA spectators and fans see the effectiveness of mixed martial arts in the ring they instantly assume it's the ideal form of self defense for the street. To the uninitiated, this may seem like an obvious and logical supposition, but in reality it's wrong and can get you into a lot of trouble when faced with a street fight or any other reality based self defense situation. The truth is mixed martial arts are created and designed exclusively for sport competition and not self defense scenarios. I actually wrote a tongue-in-cheek article illustrating the drastic differences between mixed martial arts competition and reality based self defense. (see, sammy franco's open challenge.)
What is it? The term kickboxing has become kind of a blanket term to cover anything that involves punching and kicking, but Muay Thai has a few distinct features. It's a centuries-old practice that comes, predictably, from Thailand. In addition to fists and feet, it also involves knee and elbow strikes as well as a form of stand-up grappling called clinch.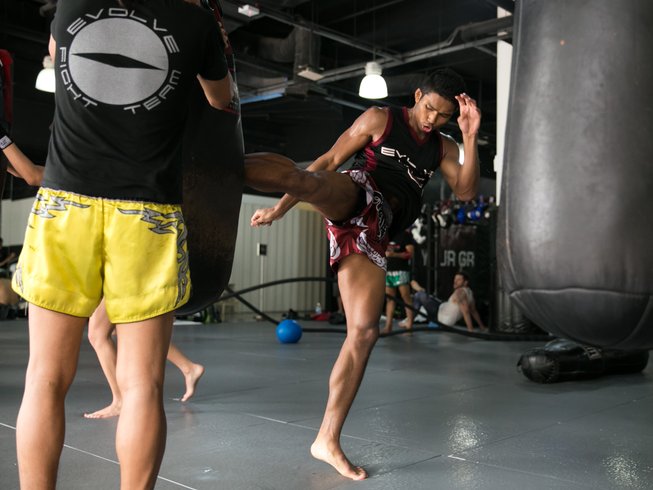 The thing is, to stand your ground. Back the fucker off. Make them understand, that they WILL get hurt. Most people who thing that they are bad asses are fucking wimps. I don't care HOW much muscle a guy has. If you have a walking stick, don't lash out wildly. Target your strikes. There is a technique in the Philippine stick fighting system called Circular strikes. It allows you to deliver a much harder blow – enough to break bone.
Wushu Sanshou and other Chinese martial arts have also been utilized in MMA. They can be highly effective in competition due to their mixture of striking and takedowns, achieved through a condensation of traditional Chinese martial arts techniques. Most prominent and chief amongst these fighters is Cung Le, who is most notable for his TKO and KO victories over former UFC champions Frank Shamrock (in Strikeforce) and Rich Franklin (at UFC Macau). Other Wushu Sanshou based fighters who have entered MMA include KJ Noons, Pat Barry, Zhang Tiequan[120], Muslim Salihov[121] and Zabit Magomedsharipov.[122]

If you find you are overtraining, then cut back on your workouts, starting first with the sprint portions of the cardio, and then with some of the strength training if need be, or take the day off altogether. Once you have recovered begin adding back exercises slowly to find your limit. You may find that your resting heart rate drops over the twelve weeks. This is good, and it's a sign that your cardio is improving.
Another common myth is that lactate doesn't form until you perform high-intensity exercises. Lactate actually forms even during lower intensity exercise (because the anaerobic system is still active to a degree). The amount of lactate produced is very minimal; we are able to shuttle this lactate into our mitochondria via the Cori-Cycle and effectively reuse it as energy. During the later round of a intense brawl however, the rate of lactate clearance simply cannot match the rate of which it is produced, this is called the lactate threshold. The figure below shows how lactate is recycled as energy after being produced as a by-product of fast glycoglysis (anaerobic metabolism).
The UFC® Mixed Martial Arts (MMA) athlete is the best-trained athlete in the world.* Preparing for competition in the Octagon™ requires a regimen of cross-functional training that builds exceptional strength, stamina, and discipline through the practice of Mixed Martial Arts. With our unique access to UFC champions, many of whom serve as trainers and coaches, UFC GYM offers elite training programs available to members of all ages and abilities. Each club offers a variety of MMA training and classes for men, women, and kids, including: Brazilian Jiu-Jitsu, Muay Thai, Judo, boxing, kickboxing, and other mixed disciplines. MMA classes promote endurance, conditioning, proper technique and intelligent sequencing, so you can surpass your goals quickly. Additionally, the UFC GYM School of Brazilian Jiu-Jitsu is now registered with the IBJJF, allowing our students to compete in local, national and internationally acclaimed BJJ tournaments.