In preliminary results reported in April 2012 as part of an ongoing study of a 109 professional boxers and MMA fighters being conducted by Dr. Charles Bernick and his colleagues at Cleveland Clinic's Lou Ruvo Center for Brain Health, fighters with more than six years of ring experience were observed to have reductions in size in their hippocampus and thalamus, while fighters with more than twelve years of ring experience were observed to have both reductions in size and symptoms such as memory loss (the hippocampus and thalamus deal with memory and alertness). Dr. Bernick speculates that the cumulative damage over time from lesser blows may eventually prove an even more important topic of study than that of infrequent concussions.[179]
In the United States, prior to the success of The Ultimate Fighter reality show that launched mixed martial arts into the mainstream media,[citation needed] there was no major coverage of female competitions. Some early organizations who invited women to compete included, International Fighting Championships, SuperBrawl, King of the Cage, Rage in the Cage, Ring of Combat, Bas Rutten Invitational, and HOOKnSHOOT. From the mid-2000s, more coverage came when organizations such as Strikeforce, EliteXC, Bellator Fighting Championships, and Shark Fights invited women to compete.

Train for cardio first, then power, then strength, then mix in some stamina. Your best and most effective workouts will combine all four. The great thing about programming your workouts is you can get creative and have fun doing it. There is an endless mixture of exercises, routines, reps, and time limits, that can produce incredible fitness. If you think that running, or rowing are the only ways to build up your cardio, then you need to read on and find out how you can get very creative with your exercises. How about punching a bag 4 times, then doing a sprawl and standing up and doing, two kicks on the bag, then doing a backdrop, then do 5 squat jumps, 5 push ups, and repeat those movements as quickly as you can for 9 minutes, then rest for a minute and repeat for another nine minutes. You have just combined unbelievable cardio, with power, and strength, with stamina all in one workout. Combining all of the characteristics of fitness is the best way to train. For instance doing a 5K run is great for your stamina and cardio, but it does little for your strength or power. Doing max deadlifts doesn't do much for your cardio or stamina, but it is great for your strength, Learn how to mix and match your workouts and you will get the best results, and have the most fun doing them… PS any strength or power movement done with reps that get your heart rate up, and your breathing labored, becomes cardio.
Since 2007, there have been six fatalities in mixed martial arts matches. The first was the death of Sam Vasquez on November 30, 2007.[182] Vasquez collapsed shortly after being knocked out by Vince Libardi in the third round of an October 20, 2007 fight at the Toyota Center in Houston, Texas.[181] Vasquez had two separate surgeries to remove blood clots from his brain, and shortly after the second operation suffered a stroke and did not regain consciousness.[182]
Stuck at home without any equipment or gym to work with? A true Mixed Martial Artist doesn't let his surroundings impact his training or spirit. Although we recommend joining an MMA gym, if you aren't able to do that or if you currently can't afford an MMA membership, there are still ways to get a good result from a home workout. In this guide, The MMA Guru will show you some of the best ways to get a good MMA/Boxing workout from home without the use of equipment! This is the ultimate MMA workout at home guide.
Under the direction of his movement coach, Ido Portal, McGregor assumes a squat position, and catches sticks as they slowly fall to the training mat. He dodges Portal's advances with handstands, crawls on the mat like a sauntering bear, and balances a stick on his feet while lying on his back. These maneuvers may seem disjointed and experimental, but they're deliberate, and have helped broaden McGregor's sense of clarity amid the unceasing chaos of a UFC title fight.
"There have been hundreds of dedicated and remarkably creative men and women who have delivered the best in television production for HBO's coverage of boxing and we are so grateful for their contributions," HBO's statement continued. "It has been a wonderful journey chronicling the careers and back stories of so many spectacularly talented prizefighters.
Diane Lockhart, motivated by the inauguration of Donald Trump, plans for her retirement. Her goddaughter, Maia Rindell, secures an associate position at Diane's firm, having passed the bar examination. Maia accompanies Diane in the latter's final case regarding police brutality, where they meet head-to-head with Adrian Boseman, a name partner of an African-American-owned firm, and Lucca Quinn, Diane's former employee. While the case is still proceeding, Maia's father, Henry Rindell, is arrested for orchestrating an elaborate Ponzi scheme, and due to this, Diane, who is among his investors, finds herself broke and unable to follow through with her retirement, and is also unable to secure or re-secure her job at any firm, with her having already signed an exit agreement with her old firm, and the fact that she invited her colleagues and clients to invest in Henry's fund. To prevent her assets, and consequently, her husband Kurt McVeigh's, from being seized as evidence, she is advised to divorce him, given their separation after the discovery of his affair, but he refuses to file for divorce, still hoping for a reconciliation. Hearing Diane's trouble, Adrian offers her a junior partner position at his firm, which she accepts, and when Maia is fired, in part due to her father's financial scandal, Diane brings her along.
In general, fighters who cannot win fights through lightning offense, or are more suited to win fights in the later rounds or via decision are commonly known as grinders. Grinders aim to shut down their opponent's game plan and chip away at them via clinching, smothering and ground-and-pound for most of the rounds. Prominent examples of grinders are Pat Healy,[143] and Chael Sonnen.[144]
Managing fatigue: As you progress through this workout, you will feel a new sense of fatigue. Stay active throughout the round and use the Jumping Jacks to actively recover from the Burpees and Swings. Think about a UFC round in a fight for a second, it's not balls to the wall the whole 5 minutes. When that happens the fighter gasses out way early. You have to find out how to push hard and manage your fatigue on the fly. That's the sign of a professional.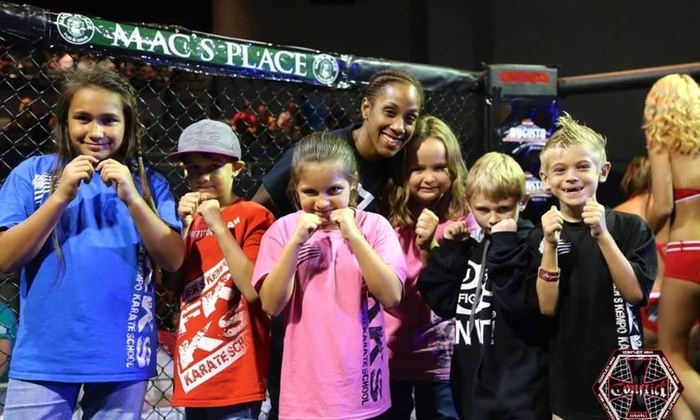 Armed or unarmed - what type of combat altercation are you faced with? Is your opponent armed or unarmed? For example, in street fighting, what type or weapon is the assailant holding (i.e. handgun, knife, baseball bat or heavy chain). Avoid using flexible weapons (chains, belts, key chains, etc.) in a real street fight. For example, some self defense instructors advocate using a kubotan as a flexible weapon by flailing the key portion across an attacker's face. Such flexible weapons are ineffective for fighting in the streets. Here are some reasons why:
If Le Corre's description of ancient warriors jumping and climbing walls seems incongruous with traditional combat training, the regimen appears even funkier in present day. Video of McGregor training before his fight with Aldo appeared online last year. It shows a montage of the fighter performing drills – presumably cobbled together in a random sequence – that might seem culled from the B-reel of a Bruce Lee movie.
In the first phase we will begin by developing all around general physical preparedness (GPP). In this phase you might notice a lack of exercises specific to MMA or BJJ. This is because we are working on your general fitness. The strength or endurance you develop in this first phase will carry over into any physical activity you do in life, and will form the foundation of the future phases of the program. The conditioning you develop during this time will be maintained through the future phases of training.
Integrate explosive resistance training. Fighter training is all about explosive power, and resistance training is an effective way to improve this. Granted, every weightlifting session doesn't have to focus on power, but try to incorporate this type of training, utilizing plyometrics, such as box jumps or medicine ball thrusts, or powerlifting techniques, once or twice a week. Perform two to four sets of six to 10 reps for each plyometric exercise.
It's probably best that you leave mixed martial arts fighting to the professionals in the UFC and watch it from the safety of your couch. But there's no reason you can't train like a fighter with an MMA training routine to lose fat, build your wind, and de-stress. The following is a pretty good simulation of an MMA fight—you know, without the foot about to land upside your head.
Armed or unarmed - what type of combat altercation are you faced with? Is your opponent armed or unarmed? For example, in street fighting, what type or weapon is the assailant holding (i.e. handgun, knife, baseball bat or heavy chain). Avoid using flexible weapons (chains, belts, key chains, etc.) in a real street fight. For example, some self defense instructors advocate using a kubotan as a flexible weapon by flailing the key portion across an attacker's face. Such flexible weapons are ineffective for fighting in the streets. Here are some reasons why:
Adrian wants to take on another anti-Trump case as a strategy to attract clients from the entertainment industry. Kresteva approaches Maia about the fake news stories that were started about her. Surprisingly, Kresteva knows about Maia's visits to her father. Barbara asks Diane for her capital contribution, forcing Diane to reevaluate her expenses. Kurt visits Diane at the office, asking for help with a public speech. Diane helps him rewrite the speech and supports him by attending and watching him give the speech. The firm's partners interview attorneys to defend them against Kresteva. Lucca suggest Adrian employ an unorthodox lawyer. Diane runs into Neil Gross, who has some interesting news for her. Kresteva visits the prison, and soon after, Henry is out on bail. Maia happily meets him at home until she sees her parents acting like nothing has happened. Later, an attorney makes her question whether her father would turn on her. A potential attorney for the firm confronts Kresteva not once but twice, the second time in a very personal way that scares him somewhat. Colin stops by the courtroom to see Lucca in action. The two of them finally go on their date, where Lucca opens up about Alicia.
Get plenty of rest. Your body breaks down considerably during heavy workouts, both mentally and physically. Getting adequate rest, is an essential part of any effective workout regiment. Whether you are training for a UFC title fight, or you are training to get into great shape, you need adequate rest to re-build and revitalize your mind and your body. Getting adequate rest includes, but is not limited to getting a good nights sleep, trying to take short naps, meditate throughout the day, and taking days off of training.
Since repetition is critical to gaining proficiency in any skill, shadow boxing is a pivotal training technique because it provide fighters the opportunity to unlimited repetitions with little physical wear-and-tear. But please note that it's not just any reps, these should be high-quality reps with deliberate focus on specific skills and strategies. A key strategy is to film the sessions and make corrections to form and enhance or provide more complexities to the shadow boxing as the skill progresses. Bruce Lee summed this up perfectly when he said, "I fear not the man who has practiced 10,000 kicks once, but I fear the man who has practiced one kick 10,000 times." Great MMA boxers like Masvidal engage in quality reps along with other aspects of training that include good coaching and sparring. Shadow boxing is a time-tested, essential tool for building striking efficiency and effectiveness.
Do 30 to 60 minutes of a moderate-intensity aerobic activity three or four days per week. Moderate-intensity activities include cycling, jogging, swimming and hitting a punching bag. This will help improve your cardiovascular system, which means more oxygen will be used throughout your body during your big fight. Your heart and lungs will work more efficiently and you will be less tired while you are fighting.
The high profile of modern MMA promotions such as UFC and Pride has fostered an accelerated development of the sport. The early 1990s saw a wide variety of traditional styles competing in the sport.[72] However, early competition saw varying levels of success among disparate styles. In the early 1990s, practitioners of grappling based styles such as Brazilian jiu-jitsu dominated competition in the United States. Practitioners of striking based arts such as boxing, kickboxing, and karate, who were unfamiliar with submission grappling, proved to be unprepared to deal with its submission techniques.[73][74][75][76][77] As competitions became more and more common, those with a base in striking arts became more competitive as they cross-trained in styles based around takedowns and submission holds.[77] Likewise, those from the varying grappling styles added striking techniques to their arsenal. This increase of cross-training resulted in fighters becoming increasingly multidimensional and well-rounded in their skill-sets.
The show primarily deals with the storylines of its three female leads – Diane, Lucca, and Maia – and contains considerable political and social commentary, exploring topical issues such as the alt-right, the Me Too movement, online harassment, and fake news. As well as starting again in a new firm with its own office politics to deal with, longtime Democrat Diane must navigate a world she hardly recognizes, becoming increasingly troubled by Trump-era politics and the actions of his administration. Lucca Quinn, a former employee of Diane's, has found firm footing at Reddick, Boseman & Lockhart and is a rising star on the partner track, balancing her dedication to her work and a romantic entanglement with US Attorney Colin Morello, a frequent opposing counsel. Meanwhile Maia, Diane's goddaughter, is trying to get her legal career off to a good start, while coming under pressure from the FBI over alleged involvement with her father's Ponzi scheme.
However, in the same period of time, America has seen alarming spikes in registered hate groups across the board, especially racially divisive hate groups, such as white nationalist and separatist groups. 2015 was dubbed "The Year of Enormous Rage" by the Washington Post. The values of fascism have been increasingly validated in the public and political spheres.
Julius Lester – Lester is a man of many talents. As an academic, he taught at the University of Massachusetts Amherst in African-American Studies, English, Literature, and Judaic Studies for 32 years. Lester has also authored 44 books, 31 of which are children's books that focus on black protagonists and black life in America. He is also a widely published essayist, folk musician, and photographer.
The workout lasts approximately as long as a real championship MMA fight: five rounds. In those rounds, you'll perform a little of nearly every kind of exercise that fighters use to prepare for battle, from jumping rope to body-weight circuits to combinations on the heavy bag. Use it to get in fighting shape, and then watch the real fights from the safest of your couch. But if you want to work out like a real warrior, try stealing the routine that Genghis Khan had his armies do.
At Easton, we know what it takes to be a fighter–from preparing for your first time in the ring to competing at the highest levels. If you have the dedication and determination, we can give you the skills to make you a contender. To get started on your MMA journey, come to Easton Training Centers, and train where the pros train. Sign up online, and you can get a free trial to experience the Easton difference. So book your first class now, and get ready to rule the Octagon! 

The kids Jiu Jitsu classes at Team Quest in Portland are structured to allow kids of all experience and skill levels to learn the martial art of BJJ (Brazilian Jiu Jitsu). Separated by age and size in the class allows the kids to train with other children who can help push them to succeed as well as learn how to defend themselves from opponents with the use of the gi. The kids Jiu Jitsu classes require a gi (kimono) to ensure the use of proper technique and give your child a realistic feel of wrestling in real life situations as we typically wear clothing while in self defense situations.
Our Keep-It™ guarantee is valid for the first-time purchase of a formula, and redeemable up to three months (90 days) after the purchase date. Multiple bottles, foods, apparel and gear do not fall under this guarantee, however, they may be applicable for return. Fitness equipment, personal care products, knowledge purchases, digital products, and DVDs are not eligible for return or refund. For more information and a full list of products that qualify, visit our Keep-It™ page. Further details can be found on our Refund Policy support page.
OK, so while round one will help you with your explosive conditioning and ability to recover fast, in this round we're going to the ground, which is where a lot of MMA fighter's spend a good amount of time. The Turkish Get Up is an amazing drill for stability, learning to create tension in the body and building static strength. It was a staple drill in the Turkish wrestling world back in the day. This is a very old school drill that is having it's renaissance right now and for very good reason, it's an amazing, basic, fundamental movement pattern.
OK so for the Intermediate Level, we're adding time and volume. Can you cut the mustard? We're keeping the exercises the same but the rounds are now the full UFC length, which is 5 minutes and I want to challenge you to add volume too. That means we're taking the Burpees and Swings up to 15 reps and the Jumping Jacks go to 30. The Turkish Get Up round should have you adding 1 or 2 reps as well.
References to any non-Onnit entity, product, service, person or source of information in this or any other Communication should not be considered an endorsement, either direct or implied, by the host, presenter or distributor of the Communication. The host(s), presenter(s) and/or distributor(s) of this Communication are not responsible for the content of any non-Onnit internet pages referenced in the Communication. Onnit is not liable or responsible for any advice, course of treatment, diagnosis or any other information or services you chose to follow without consulting a qualified medical professional. Before starting any new diet and/or exercise program, always be sure to check with your qualified medical professional.
6) Training MMA fulfills mans need for physical expression aka violence. We don't want violence in our daily lives but we still yearn for physicality. We all get pumped up seeing fights in movies or TV or when we hear about someone who was accosted by thugs and kicked the crap out of the them. Training MMA is a perfect middle ground. You can train (or fight) in controlled areas and release aggression with no threat of repercussions, jail time, murder etc..
While mixed martial arts was initially practiced almost exclusively by competitive fighters, this is no longer the case. As the sport has become more mainstream and more widely taught, it has become accessible to wider range of practitioners of all ages. Proponents of this sort of training argue that it is safe for anyone, of any age, with varying levels of competitiveness and fitness.[95][96]
The Alaska Airlines Mileage Plan caters to flyers who frequent various destinations in Alaska, West Coast cities (like Seattle and Portland, Oregon), major transportation hubs (like Atlanta and New York City), as well as destinations in Canada, Mexico and Costa Rica. By joining the Alaska Airlines Mileage Plan, you can start earning miles on every Alaska Airlines flight you take and eligible flights on Alaska Airlines' 17 partner airlines, including American Airlines, Emirates and British Airways. You can also earn miles by making everyday purchases with the Alaska Airlines Visa Signature Card or by staying with seven participating hotel partners, including Best Western, InterContinental and Marriott. The miles you earn can be used toward free flights on Alaska Airlines and other participating carriers, partner hotel stays, magazine subscriptions or donations to charity.
Whether you want to be an mixed martial artist or you're an amateur athlete hoping to improve your game, training like an MMA fighter is a great high-intensity workout. MMA training routines can help you hone your discipline, endurance, and agility while strengthening your core. Practice these training exercises on your own or enlist the help of a coach, personal trainer, or MMA class. With persistence and the right technique, you can train just like the pros.
I trained 6 years. I never had much stand up but my jiu-jitsu was pretty good. That being said, size and strength matters. A guy 30 lbs heavier than me and fairly strong is going to give me a hard time. I knew guys who had jiu-jitsu beyond where the other guys size and stregnth mattered but this is very high level and it takes years of mat time to get there. After some training though a guy your weight and strength with no training will have no chance against you.
As a result of an increased number of competitors, organized training camps, information sharing, and modern kinesiology, the understanding of the effectiveness of various strategies has been greatly improved. UFC commentator Joe Rogan claimed that martial arts evolved more in the ten years following 1993 than in the preceding 700 years combined.[70]
The Pediatric and Adolescent Health Center at Philadelphia FIGHT is dedicated to providing high quality, comprehensive, primary care to address the physical and emotional health needs of Philadelphia's children from birth through age 18, regardless of ability to pay. Located in Center City Philadelphia, we are specially tailored to care for children and adolescents who have experienced social adversity. Philadelphia FIGHT Pediatrics is home to some of the best pediatricians in Philadelphia. We have a pediatrician on our team who is also a certified lactation counselor, and we are also able to offer breastfeeding support onsite.
The best MMA training programs cover a range of skills. Gone are the days where one-dimensional grapplers submitted strikers with no knowledge of the ground game. While fighters will normally favor one area of fighting, a well-rounded fighter needs to be able to survive in every area of the game or face being overwhelmed outside his comfort zone. Furthermore, he will need to be able to put the separate aspects of the game together in actual MMA sessions.
Barack Obama – Obama is, of course, best known as the 44th President of the United States, and the first black president, which is in itself a significant step forward in the fight against racism. Prior to the presidency, Obama's political career included positions as State Senator of Illinois, and U.S. Senator. Prior to all of that, Obama studied English literature as an undergrad, was a Civil Rights lawyer and professor of constitutional law, and was a community organizer.
Get the basics down first. To get better at MMA, you'll need to become proficient in basic strikes and grappling techniques. The basic punches include hooks, jabs, straights, and uppercuts. [9] You'll also want to learn basic push and roundhouse kicks. In grappling, you'll want to learn the different positions and how to do basic moves like armbars, triangle chokes, and the rear naked choke.[10] Practice mastering these basic techniques before advancing to more elaborate techniques.
Zone 3 is called tempo training or intensive endurance training. This zone challenges the upper limits of the aerobic system. Lactate production starts to ramp up at this Zone, however, there is no significant accumulation as intensity is still relatively low and clearance levels are still high due to the adequate of supply of oxygen to the muscles.
We fight for great public schools, for economic opportunity and security. We fight for healthcare so nobody is one illness away from bankruptcy and for a secure retirement. We fight for our democracy and for a society that is safe, welcoming and sane and that means fighting against hatred and bigotry in all forms. We fight for jobs, justice and freedom for all.
Entirely valid, but that aside, what would be worth learning for practical purposes? Being this small is a pain in the ass and I'd like to at least not die in some random encounter that I didn't manage to avoid. I'm sure if you put yourself in my shoes for a second you might understand why it would get old to be completely defenseless. I suppose I could get a gun but those can always be taken away.
Hey Clover, get a weapon and learn how to use it. Pepper spray and a gun are good options to keep people away from you. Avoid people that are abusive. At 5 feet and 95 pounds you aren't going to be winning a lot of physical fights. I know a girl who is a Judo champion and weighed 110, and guys with zero training could make her tap out. Because most had like 30-70 pounds of muscle on her.
wocyru01.. its pain that I get in the shins.. about 1 inch above and 1 inch in front of the ankle bone... i had it in the past which started at 6 months after running 5 miles everyday. Ive been ok the past 3 weeks, until last night... my shin started hurting and I had to stop running and instead use the bike. my reasearch indicates its either overtraining.. or bad form.. my guess is its the latter as it takes time to develope.. comments??
You don't have to be a points and miles expert to find a frequent flyer program that suits your travel habits. When choosing a program, you'll want to consider a few key criteria, such as flight options, network coverage and how easy it is to earn a free flight. To help everyday travelers weigh their options, U.S. News evaluated nine leading airline rewards programs using a methodology that takes into account each program's earning and redemption values, benefits, network coverage and award flight availability, among other features. Our approach places emphasis on the ease of earning miles and redeeming free flights for basic members. Browse our 2018-19 Best Airline Rewards Programs ranking and detailed program profiles to find the best program for you.
I hope you get my point. The truth is mixed martial arts have numerous technical and tactical deficiencies for real world self defense applications. To avoid beating a dead horse and being redundant I won't list them here but you can read my submission fighting article and see exactly what I am talking about. Don't get me wrong, I have a tremendous amount of respect for mixed martial arts fighters. They are some of the best conditioned athletes in the world and their sport requires a tremendous amount of discipline and hard work. But the truth is, surviving a criminal assault in the streets requires a completely different form of training and mind set. The bottom line is, mixed martial arts will never be reality based self defense!
"CBD has become a highly sought after compound in recent years, taking the natural products industry by storm after receiving highly publicized exposure in the media, including in Sanjay Gupta's special, "Weed", which first premiered on CNN. Since then, CBD oil products have appeared on shelves in doctors offices, medical marijuana dispensaries and grocery stores alike, with no medical card required to purchase." - burmanshealthshop.com
Mixed Martial Arts competitions have changed dramatically since the first Ultimate Fighting Championship in 1993, specifically with the inception of the Unified Rules of Mixed Martial Arts. There remains a paucity of data on injuries that occur in MMA, and resulting concerns with regard to MMA's safety remain. A recent systematic review concluded that the injury incidence rate in MMA appears to be greater than in most, if not all, other popular and commonly practiced combat sports.[170]
On November 7, 2016, it was announced that Gary Cole would be reprising his role as Diane's husband Kurt McVeigh.[15] It was confirmed on November 11, 2016, that Zach Grenier, Jerry Adler, and Carrie Preston would be returning as guest stars, reprising their roles of David Lee, Howard Lyman, and Elsbeth Tascioni respectively.[16][18] On November 18, 2016, it was announced that Justin Bartha had been added as a series regular as Colin, a rising star in the US Attorney's office and love interest to Lucca.[10] On August 1, 2017, it was announced that Audra McDonald had been added to the main cast for season 2 as Liz Lawrence, reprising her role from The Good Wife season 4, and that Michael Boatman and Nyambi Nyambi had been promoted to main cast.[33] On November 7, 2018, it was reported that Michael Sheen had joined the main cast for season 3.[34]
I would stick to a beginner routine, as the BIGGEST difference in my book between a beginner routine and the more advanced is form. Proper form is critical, as this not only can help prevent injuries, but you actually get more out of your workout with proper form. Additionally, you're giving your central nervous system time to adjust; jumping into a more advanced routine can cause problems.
What to expect: If you want to hit people, this isn't the place to be. The only time strikes are thrown are during kata or forms, which are pre-arranged fight scenarios designed to practice defending against strikes and show off the capabilities of Judo. You can also expect to get thrown on the ground. A lot. In fact, it's likely that every session, or at least most of them, will be spent practicing falling so it'll hurt less when you get taken down.
The Kickboxing program is incredible at the Easton gym. It's much more than just a full-body workout, it teaches you how to find strength within yourself. I came into the program not realizing what I was getting into. It turns out I was jumping into a passion that I am excited to pursue every single day. Unlike other gyms with weight machines, Easton has classes throughout the day with coaches that are extremely knowledgeable and great at what they do. They push you to perform your best, and you always walk away feeling great. Every member and coach in this gym is fantastic, and it really feels like a family here.
When many MMA fighters train, they keep the length of a standard five minute round in mind by doing circuit training.  MMA fighters need to get used to pushing themselves for five minute periods of time just like rounds in fights.  So, they organize their workouts into five minute periods with short rests in between.  For, example, a fighter might jump rope for five minutes, take 30 seconds to rest, shadow box for five minutes, take 30 seconds of rest, and then run on a treadmill for five more minutes.  This example would help a fighter simulate a three-round fight.